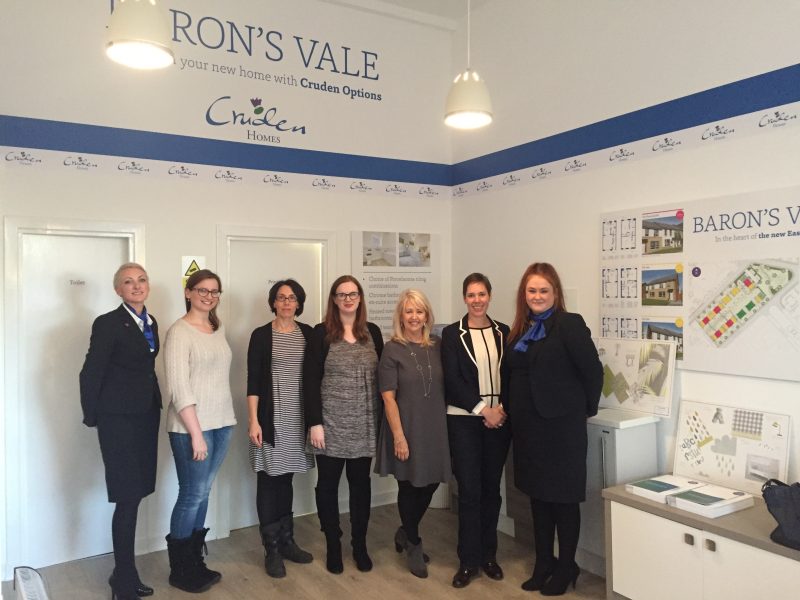 THE chief executive of Homes for Scotland recently visited Cruden Homes West's latest developments in Glasgow.
Nicola Barclay and her team were able to see first-hand how Cruden is creating sustainable new mixed tenure communities across the city.
The trade body named Cruden Group 'Home Builder of the Year 2016' at its annual awards in May, based on the firm's approach to partnership working and a "strong focus" on customer service.
The Homes for Scotland team visited King's View in North Toryglen and Baron's Vale in Helenvale where Cruden has regenerated former brownfield sites and delivered an economic boost by creating new homes, jobs and community facilities.
The first phase of the King's View development in Glasgow's south side sold 55 units off plan through a digital marketing campaign. Many first time buyers qualified for the Help to Buy (Scotland) scheme at this development and demand for these new homes has been so high that the release date for phase 2 has been brought forward to January 2017.
Cruden said sales have also been "brisk" at the firm's Baron's Vale development in Glasgow's East End, where 22 of the first 30 homes released for private sale have also been snapped up off plan.
Liz Mallon, sales and marketing director of Cruden Homes West said, "It was great to welcome Nicola to our King's View and Baron's Vale developments, especially as we share her views on the importance of delivering high-quality housing and creating real communities. Cruden has played a key role in the regeneration of many of Scotland's most challenging areas by building affordable, multi-tenure housing developments that have the facilities, amenities and transport links to ensure that they become thriving and sustainable communities.
"We're also committed to boosting the economy by creating and sustaining jobs, training opportunities, work experience and apprenticeships, leaving a legacy for the employment of future generations."
Nicola Barclay added, "There is absolutely no substitute to getting out and about and seeing what our members are doing on the ground so we were delighted to be invited to visit these developments by our current Home Builder of the Year, Cruden Homes.
"Not only were we able to speak directly with staff and learn more about site-specific challenges, we also got the chance to try a virtual reality tour of a show home which demonstrates the innovation taking place in our industry to further improve customer experience."