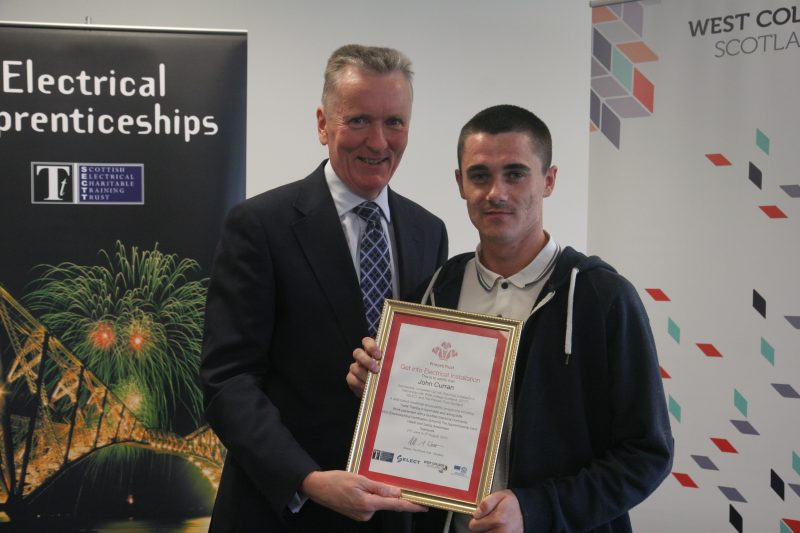 A course designed to encourage young people to pursue a career in electrical installation has been hailed a success after doubling in size in its second year.
The six-week introductory programme, Get Into Electrical Installation, was set up by SELECT (the trade association for the electrical contracting industry in Scotland), the Prince's Trust Scotland, and the Scottish Electrical Charitable Training Trust (SECTT). The course is a mix of residential and work placement available to young people selected by the Prince's Trust Scotland.
SELECT said "many" of those taking part in last month's graduation ceremony have already secured further employment in the industry.
The course, run by Edinburgh College, was completed by seven students while a further 13 were successful at West College Scotland. Those applicants chosen for a place all passed tests in maths, manual dexterity, colour blindness and teamwork skills.
Elaine Ellis, qualifications and skills development manager for SELECT explained, "It's opened up the profession of electrician to individuals who might not otherwise have had access to it. Given the current shortage of skilled workers in the industry, we are very interested to find young people who are eager to learn.
"We are grateful to the colleges for giving so generously of their time and to SECTT for their organisational skills. This has offered young people who have faced significant challenges the chance to find a place in a rewarding industry."
Anne Galbraith of SECTT added, "We have 2,500 electrical apprenticeships in Scotland, but it's not enough, given the demand for skilled workers. This programme provides a new route into employment for people who were perhaps looking for a second chance, or maybe had barriers to overcome. I'm delighted at the success so far."