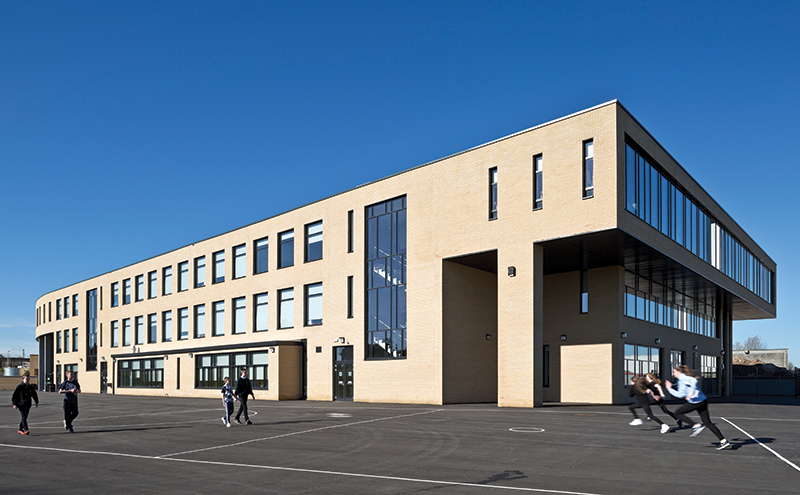 PROMOTIONAL FEATURE
MORRISON Construction's central Scotland business has experienced substantial growth in the past four years, increasing turnover from around £20 million to a massive £150 million.
Staff numbers have risen from 25 to 180 during that same period and the business has relocated from Grangemouth to state-of-the-art premises in Robroyston.
Morrison Construction is the trading name for Galliford Try in Scotland. There are three regional centres – one in Aberdeen, one in Inverness, and Robroyston covering the central region.
Eddie Robertson is Managing Director for the Building Central Division, having joined the company nearly four years ago. The regional business has changed dramatically since then after embarking on a very customer-focused strategy.
Eddie explained, "We're a service provider. Clients are at the forefront of everything we do. Four years ago we were turning over around £20 million. Where we currently sit, we have a sustainable business with a turnover of around £150 million. We've taken opportunities primarily through the public sector. Through a client-facing approach and bringing people in, we've managed to take the business to beyond where we set the forecast four years ago.
"We had a prime objective to put the current senior management structure in place and we invested in that. Most of the team were put in post within the first six to nine months to take the business to the level it's at.
"It is the people who have driven the success of the business. You can have a structure, a strategy and turnover targets, but if you don't have the clients and you don't have the people, you've got nothing.
"We made a lot of internal promotions as part of the growth. That policy attracts people into the business and recognises talent. A very structured training and development programme supports this. We've over-delivered in terms of staff training. In the year that's just gone, we've had 2.2 times the original identified needs at the start of the year.
"We're also very focused on graduates and summer placements. We have a blended learning programme where some people attend higher educational facilities on day-release. At the moment we have 14 post-graduates, graduates, summer placements or trainees. It's great to recognise and stretch young talent.
"We have huge diversity and a wide range of people in the business. Some have come from a trade background, some from professional backgrounds. We have a young guy who used to sell cars."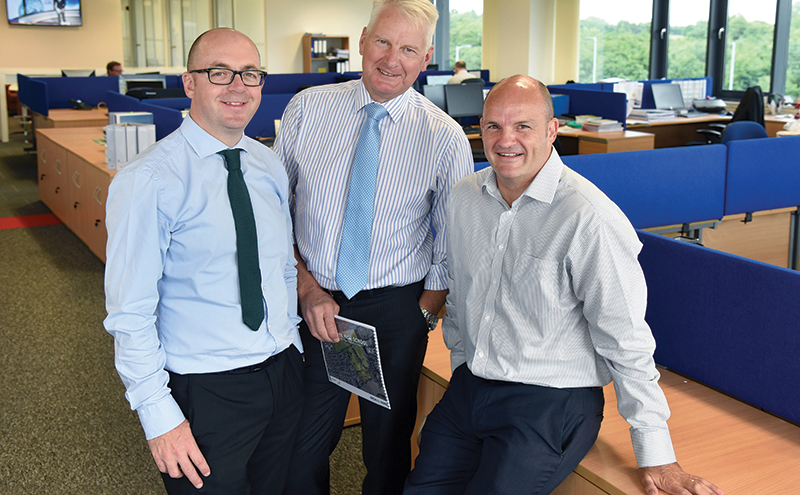 A number of recent promotions have been announced to help deliver the business plan over the next two to five years, as Morrison looks to tap into new markets and inevitably start taking on more private sector work in recognition of the changing face of the Scottish construction sector. Alan Calderwood and Billy Gray have been appointed Framework Directors while Colin MacLennan has taken on the role of Business Development Director. Colin said that successfully achieving a place on a number of public sector frameworks has helped the business grow in recent times.
"In this region alone we are on three of the hub frameworks," he commented. "We are on both Ministry of Defence frameworks – the Scottish regional framework and the national major projects framework. We are on the LHC framework for public works. We're on North Lanarkshire Council's schools framework. And we're on the Pagabo framework, a public sector procurement group.
"Getting on these frameworks is very testing. It's a really demanding process. But success breeds success. And we have the strength of Galliford Try behind us, which brings stability. We have national strength but regional flexibility and capability. You don't get lightly invited onto a framework. You have written submissions, an interview process, demonstrating project examples, sometimes even taking people around current projects. And then you generally still have mini-competitions for each project within those frameworks. We're up for that.
"The percentage of our work delivered on time and budget is extraordinary. Through the hubs we are rigorously project-managed on a whole range of criteria including community benefits and the environment and have pretty much an unblemished record. We avoid disputes like the plague. It's just not what we're about."
The firm delivers projects valued anywhere between £1 million and £100 million, though the bulk of the turnover comes from the larger-scale works. Eddie added, "We've got seven major projects on-site at the moment and another four in procurement. We have effectively around ten major projects teams. I don't think any other contractor in Scotland has that capability. While we'll do projects at £1 million, we are very much set up to deliver major projects.
"80-85% of our current projects are in the public sector, primarily education and health."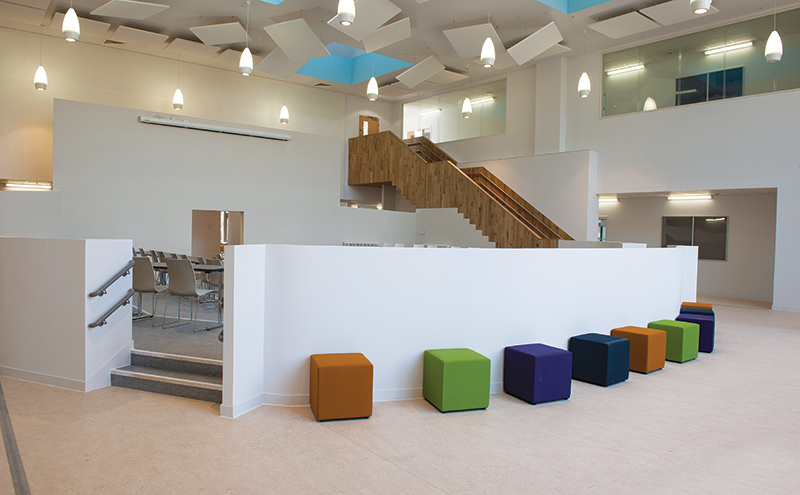 Those public sector jobs include sportscotland's new national centre in Largs, the Clyde Valley Campus (featuring provision for secondary, primary and nursery pupils), the new James Gillespie's High School in Edinburgh and the redevelopment of the Royal Edinburgh Hospital Campus.
Eddie said, "The first phase of the Royal Edinburgh Hospital project is £45 million. That's on-site at the moment. The second phase is £96 million, which is well into the development phase and due to go to site in the first half of next year. The third phase will come on the back of that.
"We've also got the East Lothian Community Hospital, which is £70 million. That is due to go to site at the end of this year.
"Other projects we're delivering include the Rising Rolls schools programme in Edinburgh, which was instigated four years ago in response to rising classroom rolls. The response was to put additional classrooms as extensions to existing schools. We are in the process of delivering Phase 4 of that process but we're also working on Phase 5, which starts next year."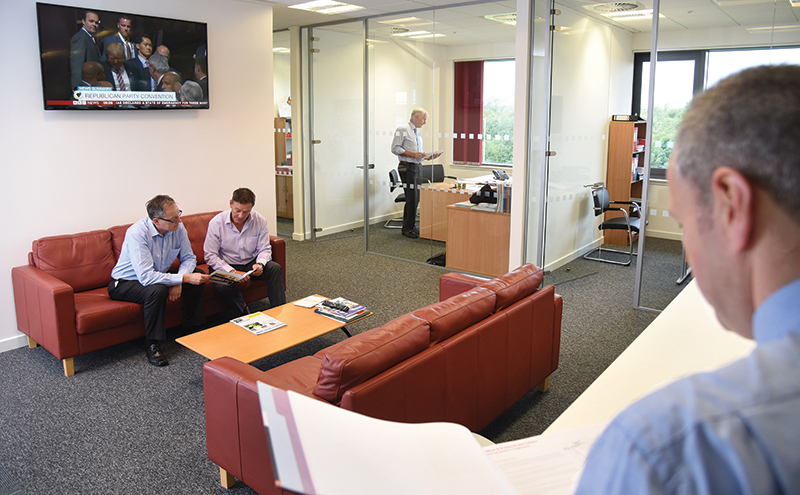 One of the factors helping Morrison stand out is the company's determination to get involved in projects at an early stage, to help alleviate any potential problems down the line. Colin explained, "The people we put on sites live and breathe their projects. Our guys are fiercely proud of their reputations. We plan well and make sure not to give cause for complaints.
"Everything we do is underpinned and indeed audited by the CCS Scheme and we've achieved some extraordinary scores in that.
"When we talk about projects being in the development phase, what that means is we've got teams co-located with the client teams developing the project, concluding the designs, concluding the cost plans, taking things through the approval stages. It's not us sitting waiting for a client to come up with a job. We are in the same offices actively working up these projects, which comes under the whole collaborative working banner. That's what we do. We invest in the time and effort, sometimes at great expense to ourselves, to ensure projects come through and are deliverable. If you've had the chance to be involved as job developers, you can design out a lot of the risks and issues."
That philosophy is something Morrison now hopes to be able to take into different market sectors. The business has been involved in a number of impressive private projects including work for BAE at Prestwick and the delivery of a new retail centre in Kilmarnock.
The firm is geared up to tackle new challenges, having established a "diverse and flexible" workforce with the skillset to respond to growth in the private and development markets.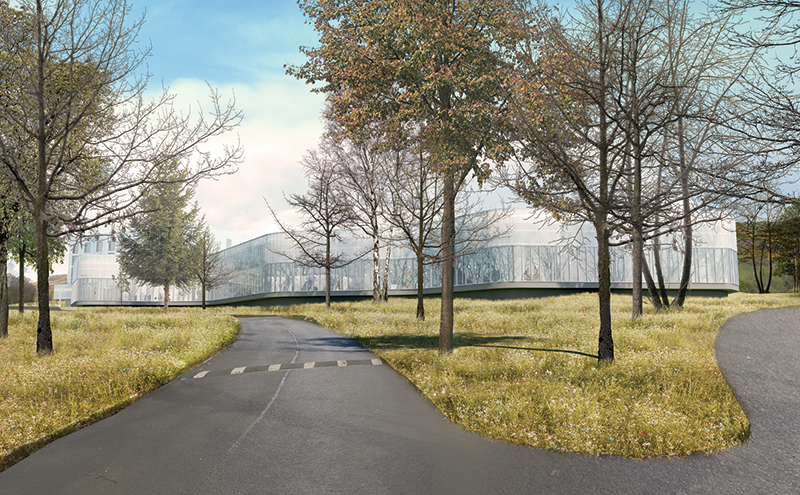 David Ewing, Commercial Director, said the transferable skills the company has developed leave it perfectly placed to seek out new opportunities in an uncertain marketplace.
"We want to support the private sector right from the start on projects as we do on the public sector," he explained. "We want to get in the door early on and offer JVs, funding support packages and cross-planning advice programming. We're doing this already in the public sector but it's a transferable skill to the private sector. We have the team able to do that."
Referring to uncertainty in the construction industry, David added, "It's about accepting challenges and going out there and making it work for you. If one market's closing out for us, what market is opening up? Nobody knew Brexit was going to happen but there must be opportunities in that as there must be international investment coming up as the pound is so much cheaper. Are the Americans going to invest in us? Will the Chinese invest a bit more?
"Another market we're keen to develop is tertiary education. Edinburgh University, as everybody knows, has a huge spend coming out, as does Glasgow University. We're very keen to work on that.
"We were awarded a project at Stirling University earlier in the year and we completed two substantial projects for Heriot-Watt University so we have the experience."
Regardless of what projects Morrison Construction take on in the future, the focus will remain on a client-driven approach within a collaborative way of working to ensure outstanding results.
www.morrisonconstruction.co.uk