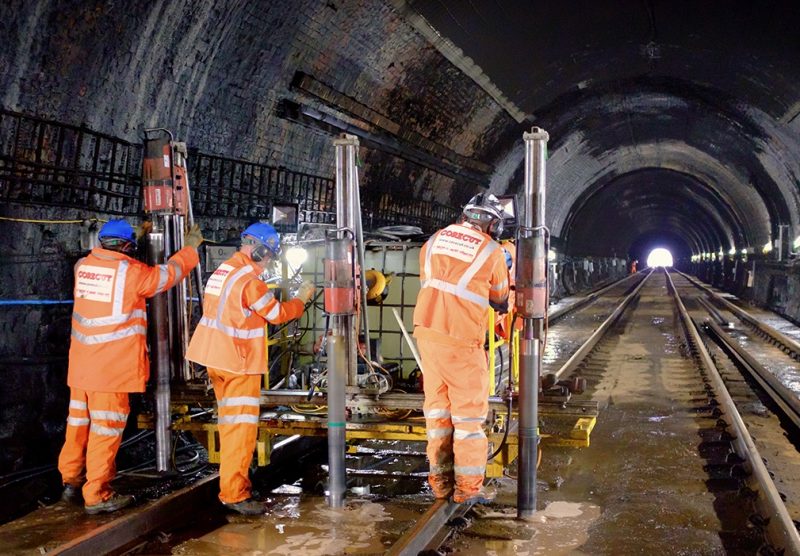 A Broxburn-based firm has completed a "highly complex" diamond drilling project on Glasgow's Queen Street Station tunnel upgrade project.
Corecut was selected by Story Contracting – which was awarded the track-slab replacement contract for the Edinburgh to Glasgow Improvement Programme (EGIP) – to lead the removal of 10,000 tonnes of existing concrete slabs.
The work included diamond drilling and concrete floor sawing in tough tunnel conditions. Corecut completed the task to remove almost a kilometre-long concrete slab track ahead of schedule, having been involved in the planning of the project for almost two years.
The company said it approached the project in distinct phases: the first being pre-blockade works which included the diamond drilling of almost 8500 112mm diameter x 500mm deep holes to allow the use of hydraulic bursting equipment to crack the slab, and 2750 metres of tracksaw cutting to both the up and down lines to "divorce" the concrete slab track from the walls.
The second phase saw main blockade works undertaken, including longitudinal sawcuts and hydraulic bursting, which Corecut described as one of the safest and most efficient methods of removing reinforced or mass concrete, brickwork, or natural stone. The firm also used remote-controlled Robolition demolition equipment to remove 10,000 tonnes of existing concrete, reducing it to smaller sections for removal by train.
Upon installation of the new concrete slab, Corecut drilled 3500 holes to a depth of up to three metres, helping to anchor concrete to bedrock.
Finlay Crocker, Corecut's managing director said, "The Queen Street tunnel represented a significant challenge for our team, which worked diligently on a 24/7 basis in difficult conditions across almost 100 days from late March to late June.
"With the difficult environment and tight deadline in mind, it is particularly pleasing to us that we were able to complete the work safely, within budget, and nearly a week ahead of schedule, which is testament to the quality and work ethic of those involved.
"We hope that our contribution to Queen Street lays the foundations for wider success, both for those still engaged on the project, and for the station's long-term future."
Eddie Esdale, location scheme project manager at Story Contracting added, "It was a fantastic effort throughout by everyone involved at Corecut. A very innovative solution was proposed and delivered, and without it, the project may not have progressed as smoothly as it did."
A full case study of the project can be viewed at: http://www.corecut.co.uk/services/diamond-drilling-services/queen-street-tunnel-case-study.aspx