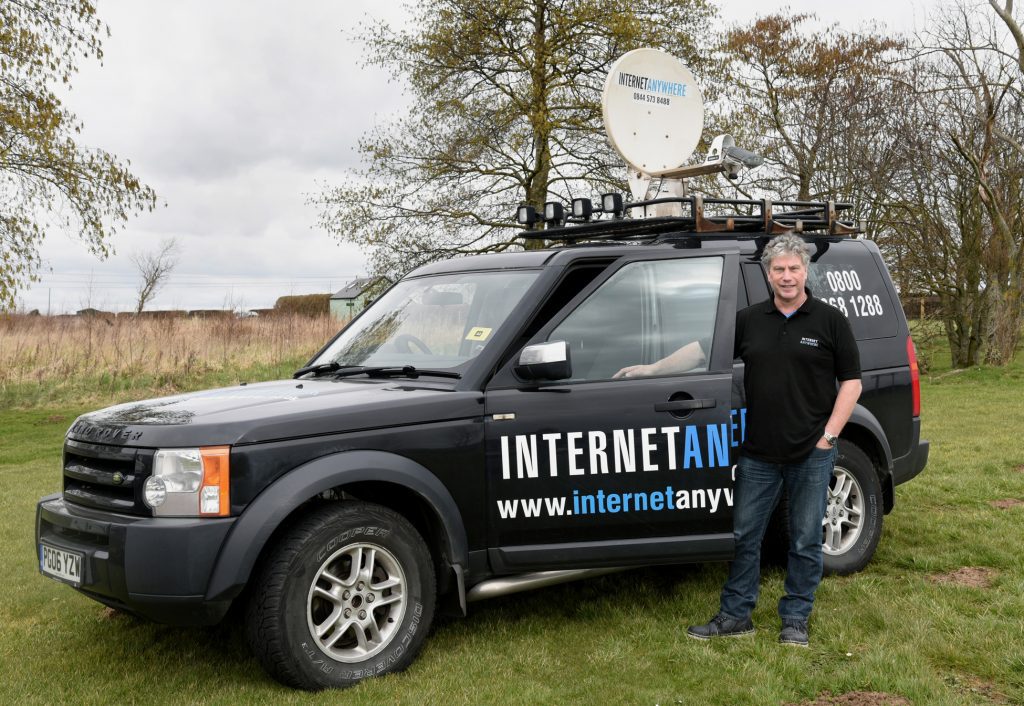 It is easy to take Internet access for granted today. Only when it is suddenly unavailable do we realise how integral it is in completing even the simplest of tasks. Nowhere is that truer than on construction projects, where the ability to communicate is essential to getting the job done and working in diverse, sometimes remote, locations can make getting a reliable internet connection difficult. Project Scotland's Fraser Rummens met with Internet Anywhere founder John Fitzgerald to discuss what his company are doing about it.
AYRSHIRE-based company Internet Anywhere specialises in bringing satellite broadband to those who cannot otherwise get access to it.
Founder John Fitzgerald has spent almost 40 years in telecoms and, since starting the company in 2011, has travelled the length and breadth of the country, clocking up over 200,000 miles, in the process.
"I left school at 18 and joined the General Post Office, which was where you got your telephone line from," John explained.
"I served my time with the GPO, after that it changed and became British Telecom and split up into residential and commercial. I stayed with them for eight years and then I realised there was potential to go on my own."
John then went on to do contracting work that took him all over the UK and beyond.
"I took contract work with Tyco International, which sent me over to Florida; we were doing work in Cancun and Puerto Rico. I then joined Fujitsu, doing MSAN upgrades for the telephone exchanges throughout Scotland and then a little bit of cabling.
"In 2011 I was approached by one of my colleagues down south who was involved with satellite and suggested there was a potential opportunity for satellite broadband that was going to be launched in May 2011.
"It was going to revolutionise the way satellite broadband was actually available to the masses, prior to them it had been a £10,000, £15,000 hit, so very, very expensive.
"This opportunity came along and I thought it was right place, right time. I had the experience and love telecoms anyway – I don't know anything else."
While John admits that the company "weren't that knowledgeable when we started", he soon realised that "the potential for broadband in Scotland is huge. There are actually 330,000 homes in Scotland that will never get high speed broadband; it's just impossible because of where they are.
"That made me realise there is a great opportunity not only for remote, but we decided to concentrate on the commercial side of the business where people are working remotely but they're not necessarily going to be there forever. Short-term construction sites, hydro farms, wind farms; that kind of thing was of great interest to us."
Internet Anywhere has already worked with Cala Homes, Bellway Homes, Scotia Homes and Luddon Construction, to name but a few, and John said that the reaction from the construction industry has been very positive.
"The first thing is that they are actually online and they can download plans, download files and do what they want to do," he explained.
"Interestingly enough, the satellite technology enables us to put in a VoIP (Voice Over IP) telephone, which means you can plug in a handset which will work off the satellite so in instances where there is no mobile phone coverage, they've got instant phone ability to pick up the phone, dial head office and equally head office can phone the site.
"It's full communications, it's not just Internet. This is being able to make a telephone call, pick up, hear dial tone and then, of course, once they've got broadband they might want wireless put in to one of the cabins for the guests that arrive on-site so they can download stuff on their laptops."
John continued, "The construction industry is an interesting one because most of their sites are temporary and when they ask Openreach to come and put a line in, this can certainly take anything up to seven, eight, nine months and sometimes, on some of the sites, it's time for the site to decamp and move on to the next site, so time is a real issue.
"Secondly, I suppose more importantly, if BT do arrive on-site, they are so far from the telephone exchange that there is no broadband on-site at all and with health and safety issues on construction sites, everything is now downloadable so when you do you risk assessments and method statements everything is Internet-based and if you haven't got Internet it just causes absolute mayhem.
"I think the key for us with construction is that we arrive on-site and we are up and running in three hours."
The installation process is very straightforward. The engineer arrives on-site, agrees on a location, assembles the satellite kit and mounts it on the chosen cabin.
The company has designed a range of "bespoke brackets" that fit "the majority of cabins" and can be bolted on, avoiding any potential damage to the cabins.
John continued, "Cable is run from the satellite into the office, the modem is plugged in, power is switched on. We then have to get line of site where we, in effect, adjust the dish to pick up the strongest signal. Once we have that it we do a software update, which takes about two or three minutes and then we're good to go, online.
"Technology is pretty slick; it does go wrong on occasion but I think the fact that we've got the right skillsets and we know what we're doing and we've been at this quite a bit now, for a few years. We've gone through all the teething problems."
Internet Anywhere has been the recipient of awards including the Scottish Business Honours 2014 for Most Promising Business and was shortlisted in the Best Small Business category at the Great British Entrepreneur Awards 2015.
"Our customer base is pretty awesome," John added. "The fact that in just about four years we've got BBC, NHS, Fire Service, Cala Homes, Land Engineering, Dawn Group, Doosan Babcock, Stirling University, Glasgow University… We've got some pretty high corporate names in the business in a relatively short space of time and we're growing.
"That's generally coming from referrals so I think that's quite a statement. A lot of people who see that are quite surprised."
The rest of 2016 looks to be a year of expansion for the company as they look to take on two new sales staff and aim to set up shop in Inverness and Aberdeen before eventually venturing south of the border.
John is also looking to step into more of a managerial role in the coming years, scaling back on the hands-on installation jobs.
"I'm pretty proud of the fact that we've got seven people, all from Ayrshire, so it's great to be able to offer that opportunity. I'm also really pleased that my daughter, Hannah, has become involved", he said.
"I don't think I'll ever stop but I'm trying to get off the tools… I've done my time, I've got the mileage."