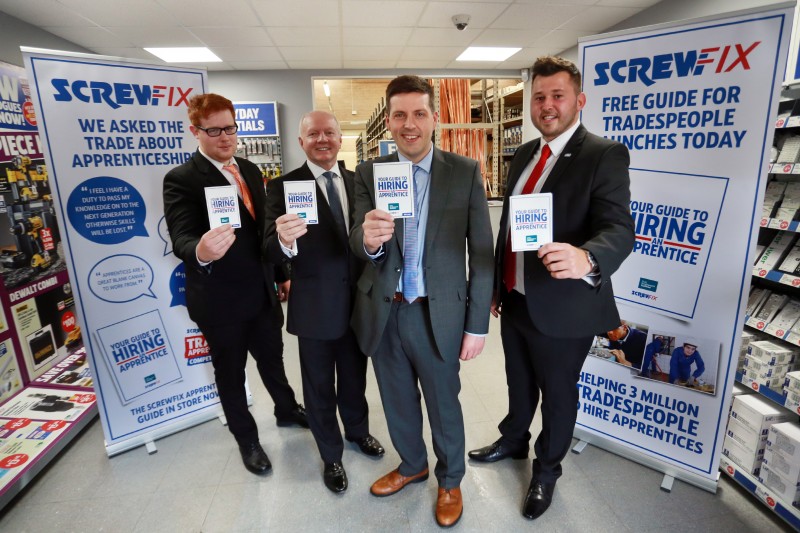 A new guide which helps tradespeople understand how to hire apprentices has been launched by Screwfix.
The free booklet, which was developed with Skills Development Scotland, is available in Screwfix stores across Scotland.
Screwfix said the guide was released in conjunction with Jamie Hepburn, the Minister for Employability and Training, after research revealed tradespeople want more skilled workers through apprenticeships as well as help in understanding how the process works. 
The booklet aims to dispel some of the "myths" surrounding apprenticeships and offer advice on issues such as what help is available to firms.
A Screwfix poll found found many tradespeople had "little or no experience" of taking on apprentices, with only 14% having employed one in the last year. 
Graham Bell, operations director at Screwfix said, "As a key supplier to the trade, we're always looking for ways to support tradespeople in growing their businesses – from enabling them to get the right products at the right time to finding out and helping to address the issues that matter most. We understand how vital apprentices are as the future lifeblood of the trade, but it's clear from what our customers are telling us that more needs to be done to simplify the process of hiring one.
"We have developed this guide to help tradespeople who have little or no experience of apprentices. Whether they're looking to find out a bit more about who to hire an apprentice through, or the financial support available to them to help with taking one on, we encourage interested tradespeople to pick up their free guide from one of our 31 stores in Scotland now." 
Minister for Employability and Training Jamie Hepburn added, "Modern Apprentices make a real contribution to the Scottish economy, apprenticeships offer our young people better career prospects and have a positive impact on the businesses and industry, bringing value to both employers and the economy. The Scottish Government has supported nearly 200,000 MAs since 2007 and we surpassed our target to deliver 25,500 modern apprenticeships in 2015/16.  We are determined to keep growing the number of opportunities for people to secure a Modern Apprenticeship and by 2020 will be delivering 30,000 places."