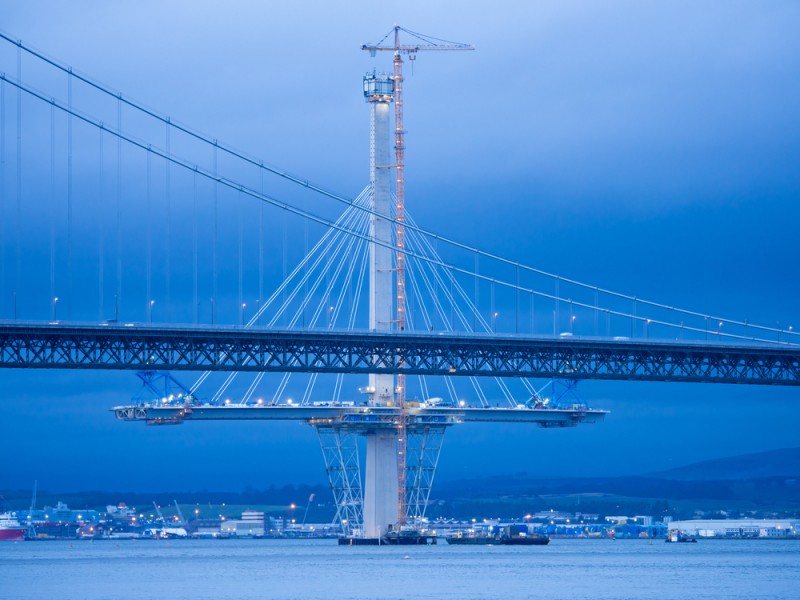 The Forth Crossing Bridge Constructors (FCBC) has announced that the opening of the Queensferry Crossing has been delayed until May 2017.
The consortium has informed ministers that "on-going effects of weather on construction mean it will require more time to complete the bridge".
The FCBC's contract runs until June 2017 and, until recently, the target of opening in December 2016 was considered "challenging but still achievable". However, adverse weather in recent months has resulted in the consortium advising that they can no longer deliver on the December 2016 target.
Cabinet secretary for economy, jobs and fair work, Keith Brown, said, "We will continue to work closely with the contractors and I will personally ensure that every pressure and every resource is brought to bear to deliver or even better the revised target date of May 2017.
"Going forward, in order to ensure that this project remains on track, I have implemented enhanced governance procedures from Transport Scotland senior management and will receive twice weekly updates from the project team.
"We have always been ambitious about this project and have always worked towards a deliberately ambitious target. However, It is important to recognise that FCBC still fully expects the project to complete within the timeframe of their contract. This project is not late and there will be no impact on the public purse.
"The December 2016 target date was set to address concerns about the long term condition of the Forth Road bridge where it was originally believed that it would be restricted as early as 2017. These concerns have proven to be less immediate and the recently installed structural health monitoring system is providing assurance on the ability of the FRB to sustain traffic. However that hasn't decreased our determination to complete this once in a generation project at the earliest opportunity.
"The Queensferry Crossing directly employs over 1,200 people, many of whom have been performing some of the most complex civil engineering ever seen in Scotland, in the highly challenging environment of the Firth of Forth. Over 12 million man-hours have gone into the project so far and we should not lose sight of their hard work and dedication. Anyone who looks at the works in the Forth cannot fail to be impressed with their achievements to date.
"It is important to remember that in the space of around nine years remarkable progress has been made in advancing this project from feasibility study to near completion. By the end of 2016 the project will be largely complete with the approach roads on both sides ready for traffic and a continuous structure spanning the Forth. – and by the middle of next year, traffic will be flowing across it. The Scottish Government will continue to ensure that this iconic structure brings benefits to the people of Scotland at the earliest possible opportunity."