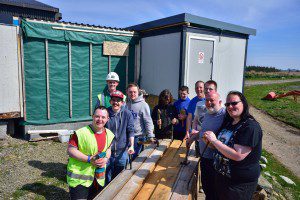 CONSTRUCTION work has started on an extension to Macaulay College on the Isle of Lewis.
Graham Construction, the main contractor for the refurbishment of Lews Castle, revealed it is supporting the college on a "pro-bono" basis by providing two extra project spaces and a connecting corridor which will allow more students to join the team next year.
Macaulay College was founded in 2010 and provides people with additional social and educational requirements a programme of activities which encourage meaningful and fulfilling working and social lives.
Graham said its team helped the Community Interest Company (CIC) complete and submit building permit forms before beginning the construction phase of the project. This included laying foundations, constructing supporting walls, plastering and insulation for the new adjoining structure.
Sub-contractors employed on behalf of Graham on the Lews Castle project will also be involved, carrying out electrical and painting tasks.
Gary Holmes, regional director of Graham Construction said, "Macaulay College is a valuable service provider for the Western Isles and we're pleased to be supporting it. This is the latest stage of our contribution to the local area, something which the company values extensively.
"We are also helping to create jobs on the islands and developing skills for young people while using local employees and subcontractors. Once work on the castle is complete, we'll be proud to leave a lasting legacy of skills, employment opportunities and support for the community."