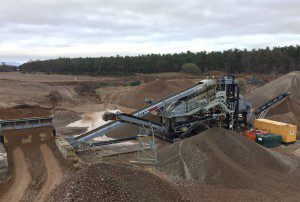 BREEDON Aggregates may avoid an in-depth investigation into its proposed £336 million acquisition of Hope Construction Materials after agreeing to divest 14 ready-mix concrete (RMX) sites.
The Competition and Markets Authority (CMA) outlined potential competition concerns earlier this month relating to 27 sites and warned an in-depth phase 2 merger investigation could take place unless Breedon offered an acceptable solution.
Breedon has now proposed undertakings to offload 14 RMX sites to a buyer approved by the CMA. The CMA said there are "reasonable grounds for believing that the undertakings offered by Breedon, or a modified version of them, might be accepted".
In a statement at the firm's AGM, Breedon chairman Peter Tom said, "Trading in the first three months of 2016 was in line with our expectations, despite a slow start to the year in Scotland.
"Our major capital investment programme has continued, with a new £3 million asphalt plant at Tom's Forest quarry in Scotland now under construction and due to be commissioned shortly.
"We continue to make good progress with pre-integration planning for the acquisition of Hope Construction Materials Limited. We also welcome today's positive response from the Competition and Markets Authority regarding the undertakings we have offered to alleviate its concerns over competition in a limited number of local ready-mixed concrete markets.
"As we indicated earlier today in our formal response to the CMA's announcement, we fully expect to be able to finalise the required undertakings to the CMA's satisfaction and complete the required divestments in the near future, paving the way for completion of the acquisition later this summer."