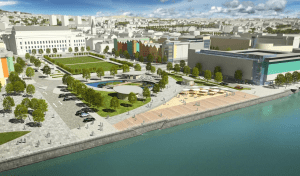 The Scottish Cities Alliance will be showcasing its new investment Pitch Book at property exhibition MIPIM 2016, in a bid to attract major external investment to Scotland's seven cities.
The Pitch Book will display over £7.5 billion worth of investment opportunities across Scotland's cities, including the £1.5 billion Aberdeen Central regeneration programme, the £2.7 billion Clyde Gateway programme and the £1 billion Dundee Waterfront.
Cabinet Secretary for Infrastructure, Investment and Cities, Keith Brown said, "I fully support the call to attract investment into Scotland's cities. This Scottish Cities Alliance £7.5 billion Pitch Book highlights the range of investor-ready and pipeline opportunities in our cities and city regions. The scale and scope of opportunities on offer is truly impressive.
"I call on the investment community to get behind this prospectus to and help us deliver future-proofed infrastructure and connectivity across our cities and their regions."
Chair of the Scottish Cities Alliance, Councillor Andrew Burns said, "The key objective of the Alliance is to drive economic growth in Scotland's seven cities. Part of our role involves promoting Scotland's cities on the international stage as attractive, modern places to invest and do business.
"The recent Ernst & Young Attractiveness Survey 2015 named Scotland as the most attractive place to invest in the UK outside London. We can capitalise on this by showing potential investors that Scotland's cities can work together to create attractive projects of scale.
"We are delighted to be launching our new Pitch Book at MIPIM, which is one of the largest and most important events on the international property investment calendar. Over 20,000 people, including thousands of investors from all over the world, attend MIPIM every year, so it is a fantastic opportunity to showcase our investor-ready projects to some of the most influential figures in the international property market."
The Scottish Cities Alliance is a collaboration between the Scottish Government and Glasgow's seven cities (Aberdeen, Dundee, Edinburgh, Glasgow, Inverness, Perth and Stirling) with the aim of attracting investment, stimulating economic activity and creating business growth.