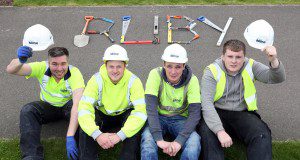 Four Scottish community products are in the running for a makeover from the Stewart Milne Group.
The Stewart Milne group launched its RUBY (Regenerating Urban Back Yards) campaign last September, as part of a campaign celebrating their 40th anniversary, with the purpose of improving community spaces in Scotland and north-west England that had seen better days. Potential spaces were nominated by members of the public, special interest groups, charities and community councils.
The shortlisted entries for Central Scotland are, "the provision of play equipment for toddlers and infants in Fountain Road Park in Bridge of Allan, promoted by Bridge of Allan Community Council; upgrading the play area at the disability resource centre in Castlemilk, promoted by Caring Operations Joint Action Council (COJAC); creating a children's play space on derelict land in Parkhead, promoted by community group All in: For Parkhead; and the greening of a public space in Shettleston, promoted by Shettleston Housing Association."
Jonathan Fair, managing director at Stewart Milne Homes Central said, "As award-winning homebuilders, we know just how important community spaces are to the quality of life that people enjoy in their local areas. With the RUBY campaign we aim to help regenerate outdoor spaces and amenities that need a bit of attention and help to build stronger, better resourced communities across the regions that we work in.
"We received a fantastic response to RUBY with projects of different sizes and type nominated from across the region. We have shortlisted four entries which the judging panel felt offer the greatest potential benefit to their communities in Bridge of Allan, Castlemilk, Parkhead and Shettleston and we now want the public to vote for the project they think deserves our support via our Facebook and Twitter accounts."
Keith Geddes, chair of the Central Scotland Green Network, and member of the Stewart Milne Group RUBY judging panel, said, "Grass-roots projects are instrumental in creating a high-quality green network across Central Scotland to improve the quality of life for residents.
"These shortlisted entries in Central Scotland are fantastic examples of projects which will encourage healthy outdoor learning and natural play for children and provide valuable greenspace resources for local communities and we urge people to vote before the deadline."
The Central Scotland RUBY campaign winner will be announced on 18 January.
Members of the public can now learn more about the projects and vote via Stewart Milne Group's Facebook and Twitter.