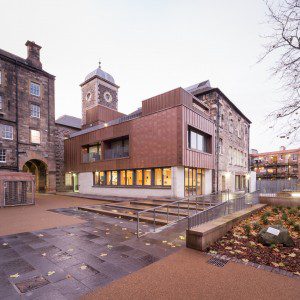 THE Edinburgh Centre for Carbon Innovation, created by GRAHAM Construction, has become the first refurbished building in UK to achieve a BREEAM rating of 'Outstanding', achieving a score of 87.5%.
The building is the world's first carbon innovation hub and was opened in the centre of Edinburgh by the Princess Royal in October 2014 after 19 months of construction and a £10.5m investment.
The Centre – hosted by the University of Edinburgh, in partnership with Heriot-Watt University and Edinburgh Napier – brings together experts from business, Government and academia to innovate and solve the complex problems associated with the transition to a low carbon future – and is the first of its kind to take this new approach.
The build involved GRAHAM refurbishing and re-modelling the 17th Century Old High School and connected modern buildings and now compromises an innovation suite, lecture theatres, seminar rooms, and large atrium space for exhibitions and events and social space.
Neil McFarlane, GRAHAM Construction regional director, said, "To achieve a BREEAM 'Outstanding' rating with a refurbishment project is extremely challenging and a fantastic achievement for GRAHAM Construction. This is not only the first refurbished building in Scotland to attain this badge of honour, but across the UK as a whole.
"It demonstrates GRAHAM's capability as an innovative construction company, delivering a project which saves 30% in energy consumption of the building's former performance.
"The construction of the building involved a careful integration of the old with the new – including cutting-edge features such as the introduction of double glazing to a listed building, PV's to the roof, an Air Source Heat Pump and connections to the nearby District Heating Network and CHP which overall allow a 40% decrease in CO2 emissions and meet 57% of the energy demand. It's fantastic to be awarded with this esteemed accolade."