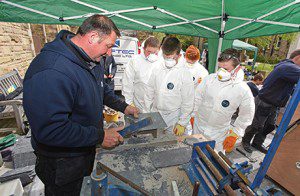 A traditional roof slating demonstration will be undertaken by the National Federation of Roofing Contractors (NFRC) as part of a unique event in Callander.
On September 17, schoolchildren and residents of the picturesque town will get a first-hand opportunity to see traditional building skills in action and possibly get some hands on experience.
Ancaster Square, at the heart of the town, will play host to the Forth Valley Traditional Building Forum who will be there to put on a number of live demonstrations.
As well as the roof slating demonstraion, visitors will also see stonemasonry by Historic Scotland, stone carving from a bursary holder of the Heritage Lottery Fund, which will also be working in conjunction with Forth Valley College to show off joinery, and painting and decorating skills.
For more information on the Forth Valley Traditional Building Forum, as well as additional details on the free public event, head to http://stbf.org.uk.