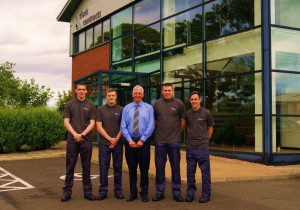 Construction, refurbishment and maintenance company Clark Contracts has kick-started the careers of four individuals in construction. 
The new joinery apprentices, who make up the first half of Clark Contracts' intake of apprentices in 2015, will be mentored by colleagues who also began their careers as apprentices with the company and have now progressed through the company's training programme to become Site Supervisors and Site Managers.
The four apprentices are Ryan Goodwin from Barrhead, Dominic Larkin from Castlemilk, Stewart Smillie from Dumbarton, and Anthony Boyle from Falkirk. They will spend four weeks at Clark Contracts' head office in Paisley to give them a head start before beginning their college courses.
The new recruits will gain experience in working across all divisions of the organisation; Small Works, Construction, Maintenance, Fit Out and Joinery Workshop. The hands on experience gained whilst working on site will support the modules they will study at college.
David Cooper, Director, Clark Contracts said, "We look forward to helping these young apprentices  develop their careers in Joinery and hopefully progress through the company in the same way many others have before them." 
Clark Contracts is a member of the '5% Club', a nationwide initiative, which underlines its commitment to the recruitment and training of apprentices, students and graduates. As a member of the 5% Club, the company is committed to ensuring 5% of its workforce over the next five years are young people on structured training schemes. At present, the organisation is already exceeding this target with 10% of Clark Contracts' current workforce  apprentices or students.