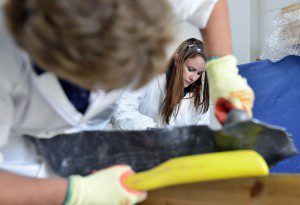 A week-long summer school with a difference begins on Monday as Historic Scotland invite members of the public to come along and learn about traditional buildings.
Experts will discuss the materials that make up our towns and cities, looking at everything from stone and ironwork to architectural features and surveying techniques, to find out why our heritage is so unique. They will also get out of the classroom to investigate these features in more detail and have the opportunity to try their hand at traditional skills such as stonemasonry and lime slaking.
Dorothy Hoskins, Technical Outreach and Education Manager, said, "Summer school is a great introduction to traditional Scottish building materials and skills, helping people learn in an interactive and fun way through lectures, field trips and hands on practice. Delegates come from a range of backgrounds whether a professional working in the sector, a student learning about buildings or an interested homeowner, everyone who attends will learns something new and the diversity of students creates a really unique event."
The week-long course is taught through a combination of talks, workshops, field trips and hands-on activities. Tickets can be bought for the full week (£450) or per day (£100). Most of the training takes place in Forth Valley College, Stirling but there are some field trips organised for the Forth Bridge, Glasgow School of Art, and Culross village in Fife.
Tickets are available via the Historic Scotland Events website.