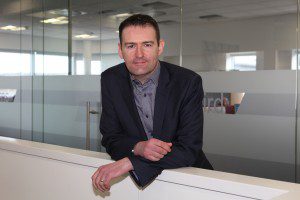 DESIGN and engineering consultancy Morgan Sindall Professional Services (MSPS) has promoted Andrew Gotts to Regional Manager for the firm's Scottish business.
Formerly a civil and structural associate, Andrew will now be the central point of contact for MSPS' Scottish-based clients, responsible for new design and consultancy enquiries, operations and commercial and technical matters relating to existing project commissions.
He will also continue to lead the growing civil and structural engineering team within the Scottish office, which has doubled in size since June 2013.
Richard Webster, Managing Director at MSPS says the promotion is down to the recent refocusing of the company's new business development and marketing operations, the impressive growth of the Scottish business and the excellent reputation that Andrew has earned: "In just two years at MSPS, Andrew has successfully established himself with the national business and further enhanced his standing within the industry as someone who can provide valuable technical expertise and an excellent quality of service," said Richard.
The new role reflects the company's expanding portfolio of design commissions in Scotland, particularly in the public sector. This has been fuelled by recent project wins including: Perth and Kinross Council Headquarters; three new healthcare centres for NHS Glasgow and Clyde; a multi-school bundle for East Dunbartonshire Council; St Ninian's Primary in Stirling; Carrongrange Secondary ASN in Grangemouth; and several projects for the University of Edinburgh and UWS in Paisley.
Andrew added that the levels of new business are a promising sign, "We're winning work through a number of hub territories, Scottish Prison Service, Airport, University and Council frameworks, which is extending our client relationships across multiple local authorities and across a wide range of public sector works," explained Andrew.
"Whilst healthcare and education remain areas in which we have extensive, award-winning experience, we are also demonstrating our expertise in prestigious headquarters office buildings, aviation and in the custodial service. I am looking forward to building on our recent success in my new role within the MSPS team."
Andrew will be working alongside Robbie McKillop, Public Sector Director, who will continue to focus on building the company's national offering in education and healthcare.