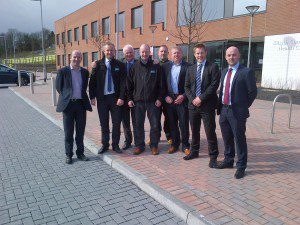 WORK on the new £7.8million community health centre in Kilsyth has been completed on time and on budget.
The building is the first of three health facilities, with a total value of £43million, to be completed by hub South West in partnership with NHS Lanarkshire..
The new centre, built adjacent to the town's swimming pool, is double the size of the current facility at Burngreen Park and will provide the local community with a purpose-built, modern community health centre offering a wide range of services including GP practices, mental health, physiotherapy, NHS dental practice and other local clinics.
Michael McBrearty, Chief Executive of hub South West said, "The Kilsyth health centre represents the sixth facility completed by hub South West on time and on budget during the past year, maintaining our 100 per cent record.
"We faced significant challenges throughout the development and construction phase and it is therefore testament to the partnership working of all stakeholders that the project was handed over on schedule. Particular thanks are extended to our main contractor Graham Construction for achieving this significant milestone.
"We are delighted to have been involved in this exciting new facility which will no doubt provide people in the area with an improved experience of health care."
hub South West is a public private partnership which enables the cost efficient design and construction of community facilities, including schools, health centres and care homes, within the south-west region of Scotland.
During the past year hub South West has successfully handed over six projects totalling £20million, with a further £130million currently in construction and £350million at the design development stage
The partnership aims to invest over £1billion in new public buildings over the next 10 years, providing additional business and employment opportunities within Lanarkshire, Ayrshire and Dumfries and Galloway.
Mr McBrearty added, "By actively encouraging small and medium sized enterprises (SMEs) to join our Supplier Network, we provide local contract opportunities and help potential suppliers secure work via our Supply Chain Institute. Additional support is also available via our Skills Academy generating work placements, apprenticeships and training opportunities."
Ian Ross, NHS Lanarkshire's chief executive, said, "Our aim is to deliver a first class health centre for the people of Kilsyth. This is an exciting development that will offer excellent premises for a wide range of local health services including additional local services."