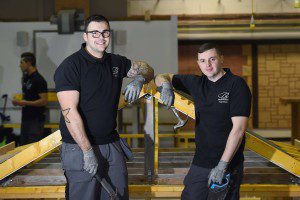 CITY Building is helping two adult apprentices carve out successful careers in the construction industry through its renowned apprenticeship programme.
Kevin McCarron and Adam Gibbs, both from Glasgow have additional support needs and were initially employed at the company's Royal Strathclyde Blindcraft Industries (RSBi) facility after leaving school and subsequently secured apprenticeships in joinery and carpentry with City Building which commenced in August 2014.
The company initially placed Kevin and Adam on its six-week pre-apprenticeship programme and have gone on to provide them with the resources they need to progress through their apprenticeships. This included help from a dedicated learning support worker and apprentice training officer.
Kevin said. "I never thought when attending an additional support school I would ever have the opportunity to be an apprentice joiner. This will change my life forever, after my apprenticeship I will have more choices in life."
Adam added, "I have had a great experience so far working with City Building and attending the learning centre. The support I've received has really helped motivate me to succeed."
Kevin is now actively working as a joiner on the investment and refurbishment side of the business, while Adam has been working on carpentry projects on the company's new house building site at Croftfoot Road in Glasgow for Lowther Group and is currently involved in constructing the new care home in Toryglen for Glasgow City Council.
Graham Paterson, Executive Director of City Building, said, "We are dedicated to training and supporting the next generation of tradespeople through our extensive apprenticeship programme. It's great to see how far Kevin and Adam have developed and to watch their drive and determination turn into great achievements."