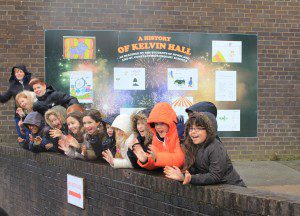 GLASGOW schoolchildren were this week invited to the unveiling of their artwork, taking pride of place outside historic Kelvin Hall which is currently undergoing redevelopment by Barr Construction.
The Renfrewshire-based contractor invited pupils from neighbouring Hyndland Primary and St Constantine's Primary to decorate the entrance to the site with drawings of the city landmark through its lifetime to date.
To keep the history of one of Glasgow's best-loved buildings alive, pupils from P4 to P7 were shown archive images and videos of Kelvin Hall's remarkable past for inspiration for their creations.
The schoolchildren were then tasked to create a drawing, craft a poem or write a news story to be enlarged and featured on the site's hoardings. Hand-drawn pictures of the circus, transport museum and sporting events now adorn the entrance of building site.
Catriona Watson from Barr Construction said, "The Kelvin Hall first opened in 1927, and over the last 80 years the building has meant a lot of different things to a lot of people, not only in Glasgow but internationally. We wanted to give the children some insight into Kelvin Hall's colourful past and get them excited about its bright future.
"We strive to engage positively with the local community in every project we do, and this is such an iconic project for Glasgow, it's great we can get the school children involved and get them to really understand the significance of the building."
Helen Brown, headteacher from Hyndland Primary, said, "The Kelvin Hall has a remarkable history and the children were keen to make their mark on what promises to be an exciting new chapter in this landmark building's story."
Deirdre Shannon, depute head, St Constantine's Primary, said, "The children enjoyed learning about the Kelvin Hall's past and like so many others, were inspired by some of the amazing stories. By taking part, they're now part of the story and they're looking forward to seeing what's inside the new Kelvin Hall when it opens next year."
Barr Construction is currently on site working on the first phase of the £35 million redevelopment and expected to be complete in the second half of 2016.
The new Kelvin Hall will be a sporting and cultural hub, combining a large Glasgow Club sport facility, a new storage space for Glasgow Museums and new teaching and conference facilities for the Hunterian Museum. The National Library of Scotland will also open the Scottish Screen Archive, providing public access to their moving image collections. This is a new and innovative service offer to the people of Glasgow and its visitors.  It aims to further engage and encourage participation in sport and culture.
The project is being funded by Glasgow City Council, Scottish Government, University of Glasgow and the Heritage Lottery Fund.