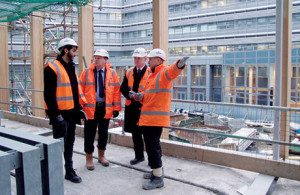 In an exclusive feature, Project Scotland is invited onsite to Robertson Central's latest development at Glasgow's Caledonian University.
In the heart of Glasgow Caledonian University campus, in the centre of an ever-changing hive of activity in which students ebb and flow through walkways and lecture halls, cafeterias and libraries, Robertson Central is busy extending and refurbishing the University's two main buildings.
The Stirling based firm, one of Robertson Group's regionalised construction companies, is redeveloping the George Moore and Hamish Wood buildings on a unique live construction site in which the University's 17,000 students and staff continue to study and work onsite.
Over 90 weeks, Robertson are constructing a glass pavilion gateway, a new restaurant, a 500-seat lecture hall and conference centre with revitalised outdoor spaces, greener landscaped courtyards and a centralised entrance with an extended front canopy.
Designed by Page/Park Architects, the £17.5 million development is due for completion in early 2016. 
Currently focused exclusively on the ground and first floors of the George Moore building, construction will then switch to the Hamish Wood venue later in the year.
A former Construction Management student at Glasgow Caledonian University, Mark Saunders, Robertson Senior Project Manager, is now leading an operation under the watchful eye of his former lecturers, who can peer out from their office windows to watch the development evolve and, as Mark points out, are always on hand to contribute ideas.
With the students' health and safety and maintaining their undiluted and undisturbed learning experience of paramount importance to Robertson, Mark has established a close working relationship with the University to ensure coordinated schedules and regular updates on construction progress and plans.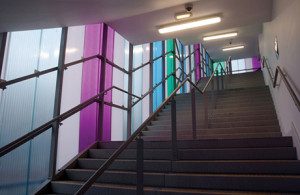 Out-with monthly project reports and weekly look-ahead meetings, Mark also reports once a month to the Heart of the Campus Project Board, which comprises the University's senior management team, the Vice-Principal Infrastructure and Chief Financial Officer, and industry figureheads including Ian Gracie, Chair of CIOB Scotland
Not only is the University closely involved as a client, but students have also been offered hands-on experience. In the construction site, Construction Management students have an invaluable live working model to visit and observe.
With a designated Community Benefits officer, Robertson are also offering student placements on the Glasgow Caledonian University site, as well as helping dissertation Construction students with their research.
Martin Smith, Managing Director for Robertson Central, commented, "One of the key things for us is making sure we're engaged with local communities and enterprises driving forward for apprenticeships and young graduates getting involved in our business. It essential that we maintain that vision and continue to encourage and recruit young people into our industry.
"Having that practical opportunity and insight into the job and how things work is crucial. We can't underestimate just how invaluable that experience is. It helps you develop your whole concept of being able to build a job from scratch."
Local primary schools have also been invited onsite as part of the Caledonian Club to observe and learn about the efficient recycling and waste management procedures in place, with a large portion of the stone removed from the old buildings broken down and reused where possible in the new developments.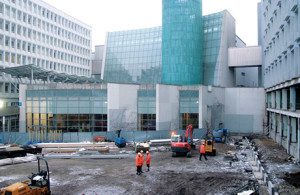 Not satisfied with the pressure of working on a construction site overlooked by the client, construction students, academics and experts and the population of Glasgow Caledonian University, Mark has also agreed to deliver a guest lecture in the same halls he once sat as a student.
Walking around the development it's easy to forget that there's a University functioning in the same buildings.
You are overwhelmed by the tight working conditions of a site in which no space is wasted as machines, men and equipment work in compact zones to ensure construction progresses according to the demanding schedule.
Stepping from the busy construction site back into the hub of the University, the two zones, metres between them and separated only by dense soundproofed doors, seem worlds apart.
Prior to obtaining possession of the ground and first floors, Robertson had to install a temporary staircase in the George Moore Building to ensure students could still access the floors above whilst bypassing ongoing construction.
Looking onto the George Moore building, the bottom two floors hollow and exposed after having the concrete façade panels removed, you see students zipping through corridors and sat in crowded classrooms above, seemingly oblivious to the magnitude of work that goes on below them.
Working beyond the demands of an ordinary construction site, Mark has acknowledged that the Glasgow Caledonian University development is by far the most challenging job of his 15-year career.
Having said that real job satisfaction comes when the project has finished, in the moment when you can stand back and appreciate the hard work and long hours that have gone into making a development that will stand the test of time, Mark Saunders knows that whilst it may be the most challenging, the Heart of the Campus development will also be the most rewarding project to date.
As Martin Smith adds, "Everyday is completely different, and whilst that's renowned in construction, it's no truer than on this site: everyday really is completely different."