Technical ingenuity and a fleet of 'go anywhere' trucks has driven development of a remote wind farm site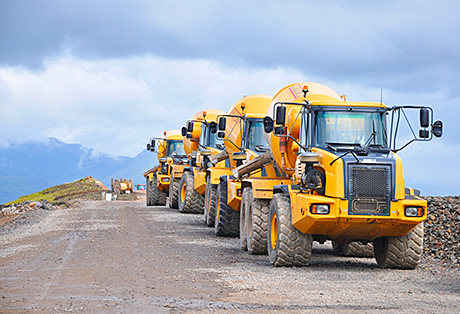 THE Carraig Gheal wind farm site is an inhospitable place. Around 20 miles from Oban it sprawls across 1,200 hectares and rises to 450 metres above sea level. When the advance party from Essex firm C A Blackwell (Contracts) Ltd arrived in early spring last year they found a hilly wilderness, largely inaccessible other than by occasional narrow dirt tracks furrowed over generations by the foresters and farmers.
Yet within months, Blackwell had created more than 45km of roadway through the site, almost 10km of it giving access to the 20 turbine sites, the remainder constructed to help the forestry industry and remove traffic from country lanes. In addition, Blackwell constructed 76,850 sq. metres of hard-standing area.
David McCracken, Blackwell's project manager at the site, said: "Whichever way you look at it, that's pretty good going. We've turned that aspect of the job round very quickly and that's only a small part of what we've had to do."
Much of the haste was the result of factors outside Blackwell's control. The company was appointed main contractor by Green Power, a private enterprise firm, on Christmas Eve 2011 following the withdrawal of the original contractor. "We suffered a terrible winter initially," recalled McCracken. "It was pretty disastrous in terms of getting work done. It's already a rough environment, but when you add a lot of wind, rain and snow, and the fact it gets dark very early, [that] means the schedule was looking quite scary."
Road construction began in February last year and continued at a fast pace. "Since March, we've actually been reasonably lucky with the weather. This part of Scotland has been drier than usual through the spring and summer, and certainly drier than most of the UK."
However, Rob King, the contractor's resource manager, admitted that, even with a spell of good weather, the conditions remained challenging and had it not been for some technical innovation and its fleet of 30-tonne articulated dumptrucks, progress would have been less impressive.
As well as terrain and weather, the project has also had to deal with a number of ecological constraints that increased the workload or delayed the schedule, sometimes a combination of both. Blackwell has employed its own ecologist throughout the project to work with the client's ecological team and come up with answers to wildlife protection issues. Nesting ospreys, golden eagles and red-throated divers have required consideration and protection, sometimes to a point where work has had to halt completely on parts of the site.
When sections of road had, for example, been made impassable due to nesting birds, it was essential to maintain access to parts of the site using untreated cross-country routes, which 4×4 vehicles, let alone normal road-going lorries, would have found impossible. "This is why we were always going to use articulated dump trucks," said King. "There was never any other vehicle that was going to move the materials in the conditions we had. And the Bell trucks are extremely manoeuvrable."
It was that need for continued access that prompted the contractor decided to work with truck manufacturer Bell to turn its trucks into off-road concrete mixers, a configuration that was developed and trialled – and proved successful – on the massive Clyde Wind Farm project near Glasgow.
Blackwell commissioned a total of five converted Bell trucks and working with concrete mixer specialist Utranazz Group, a specially designed sub-frame was manufactured that would allow Blackwell to mount a self-contained, self-powered mixer unit on to the dump truck chassis. "We tweaked a few elements here and there, like repositioning radiators, installing new dampers and improving some brackets. We wanted the mixer unit to be completely independent from the existing electronics within the truck, so that we could retain the flexibility to convert it back to a standard haul truck," explained King.
Similar conversions have been attempted previously but only, according to King, in a "very crude roll-on, roll-off skip lorry" approach. This was the first time that a fully functioning concrete mixer had been created using a Bell chassis, which could also be easily converted back to a basic dumptruck.
"The configuration of the design following this co-operation with Bell and the mixer specialist means we can convert the truck back for normal use in less than four hours," he said. "This flexibility not only means our trucks can be utilised even when batching and pouring isn't taking place, but it also gives us flexibility with our drivers. This can be very useful at a remote site like Carraig Gheal where labour is not always easy to source."
Each of the 20 turbines at Carraig Gheal stands in a base of about 330 cub. metres of concrete and about 45 tonnes of steel. Because of the volume of concrete, Blackwell built its own batching plant, without which it would have been impossible to meet the schedule, not least because standard concrete mixers would not have been able to access areas that the ADTs could.
King said: "We'd have had to be much more critical with the roads if we'd attempted to use normal concrete mixers. We simply wouldn't have had the time for that on our already very tight work schedule. The Bells have no problem coping – and don't create anywhere near the amount of downtime we might have faced with other methods of transport in these difficult ground conditions."
When the main element of the road infrastructure programme was underway, Blackwell had around 30 Bell trucks on site, hauling rock and peat on steep and difficult terrain, working alongside dozers and excavators.
The 20 turbine sites are dotted across the central section of the site, 500 metres apart to avoid 'wind shadow'. Each turbine site is initially excavated and a platform of about three or four inches of concrete is prepared to provide a flat working base. A mass of steel rebar is installed to provide the necessary reinforcement before the pour takes place. From start to finish, each turbine base takes on average three weeks.
Within a few months of work, not only the roads had to be completed, but the bases had to be ready in time for the delivery and installation of the first turbines in early September. There was also more than 11km of cabling track to lay to connect each turbine, typically along the route of the roads, but sometimes across country.
Siemens has been responsible for installation of its 2.3MW turbines – the logistics of which left no room for unscheduled on-site delays.
Blackwell's initial handover date was December 18, meaning the installation schedule ran to about two turbines per week. Final handover will be in March.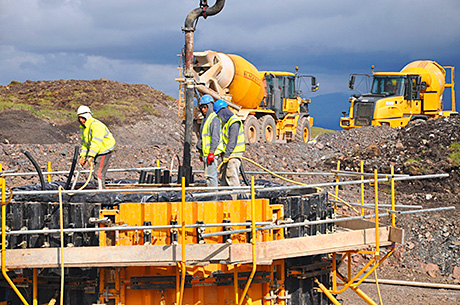 Images – Top, The articulated dump trucks line up ready for work in an application that brings a new dimension to wind farm development. Above, South African manufacturer Bell Equipment believes that Blackwell has helped present the wind farm industry with the perfect solution for concrete handling. Simon Bridge, regional sales manager for Bell in the UK, said the flexibility of the ADTs cannot be underestimated. "Blackwell has recognised this, not only in using its Bell fleet for normal haul duties in these very challenging conditions, but in going one stage further by using them as concrete mixers. It's a truly innovative use of an ADT."