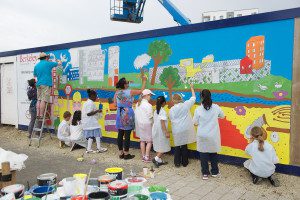 THE annual Ivor Goodsite Hoarding Competition run by the Considerate Constructors Scheme has returned for its third year, encouraging contractors to engage with their local communities by asking them to design and decorate hoardings, turning them into works of art.
The popular competition, fronted by industry mascot Ivor Goodsite, is now open for entries and available to any site, company or supplier registered with the Scheme.
Last year, 45 contractors took part in the competition which saw more than 2,500 children getting creative with paint brushes, pencils and even their hands and feet to decorate their local site's hoarding.
The competition provides an opportunity for people of all ages to showcase their passion for art and design with the added bonus of the decorated hoardings becoming a much-loved feature in their respective towns.
Edward Hardy, Chief Executive of the Scheme said, "For the last two years, the Hoarding Competition has proven to be a successful innovation in providing a fun way for contractors across the UK to promote site safety and engage with their local communities. We need more young people to get into the industry, so we hope the competition will continue to encourage children in particular to learn about how exciting our industry is and even possibly be the incentive for some to consider a career as they become older."
Construction sites, companies and suppliers who are interested in getting involved have until the 1st May to complete an entry form. Contractors should then organise an event with a school, children's club or other local groups to design and decorate their hoarding based around a chosen theme. Last year, the five winning sites chose themes that resonated with their community which included 'Environment', 'Welsh Wildlife', 'Football', 'Fields and Wildlife of Broadclyst' and 'Animals, Princesses, Heroes and Skips'.
Once the hoarding is decorated, contractors will need to submit photos and information on their event to the Scheme by the 5th June when the winning entries will be selected by a judging panel.