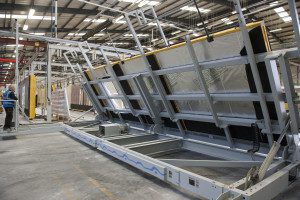 GLASGOW-based construction and manufacturing business CCG is delighted to announce that it has been selected to deliver the 'Panelised Systems'Framework for public sector procurement consortium LHC.
The LHC Frameworks are designed to support public sector organisations in accessing the best value, quality solutions for projects and CCG has secured the rights as a UK supplier (exc. Wales) and exclusive supplier in Scotland for 'Panelised Systems'.
Delivering this Framework will see CCG utilise its £12m Off-Site Manufacturing Facility (OSM) to produce flat panel kits which form the structure of a building (walls, floor, roof) in factory conditions before the kit is transported to site for assembly. This 'Panelised Systems'approach helps to improve efficiencies within construction and manufacturing by significantly reducing build time and minimising waste. OSM has been used in a range of projects including in the construction of 237 homes for the 2014 Commonwealth Games Athletes Village which are now a tangible legacy of the Games, creating a vibrant community in the East End of Glasgow.
The Framework delivery will also benefit from CCG's research and development division – iQ Lab -which offers a wide range of energy and sustainability related services. From large scale new-build residential developments to one-off luxury homes, the iQ Lab team work to ensure the desired level of compliance is achieved through the most economic route, saving time and money from the outset.
CCG Chairman and Chief Executive Alastair Wylie said, "Securing the framework contract with LHC is great for our business – showcasing our commitment to innovation and positioning us as a trusted supplier of cost effective, quality solutions to LHC members."