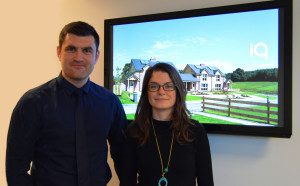 GLASGOW-based construction and manufacturing business CCG (Scotland) Ltd has announced the appointment of a new management team at iQ Lab Ltd.
The Group's innovative team focus on delivery of research & development, sustainability and construction solutions. The specialist approach and expertise of the iQ Lab is utilised across the CCG business. In partnership with CCG's offsite manufacturing division, CCG (OSM) Ltd, the team has provided key design and energy related services in the delivery of many of the company's biggest projects – such as the Commonwealth Games Athletes' Village and Anderston Regeneration.
iQ Lab operate as a consultancy offering a range of energy and sustainability related services on a wide range of projects. From large scale new-build residential developments to one-off luxury homes, the team work closely with clients and design teams to ensure the desired level of compliance is achieved via the most economic route, ultimately saving time and money from the outset.
 
Andrew Money and Finola Fingleton will head up the company with a collective focus on the energy, sustainability and design related areas of the business.
Andrew, who joined CCG in 2011, will take up the position of Sustainability Manager with a primary focus on promoting the specialist range of energy and sustainability related services that iQ Lab provide to clients independently.
 
Finola joined iQ Lab in early 2014 and plays an important role in promoting sustainable design and construction solutions for CCG OSM.  Finola will continue in her role as Design Manager with a primary focus on research & development for the CCG Group.
 
CCG's Group Managing Director Gary McGregor said, "We are delighted to announce Andrew and Finola's promotion to lead the innovative area of our Group.  iQ Lab has a very strong team with a lot of momentum behind it and we look forward to its continued growth to deliver low carbon buildings across the sector."