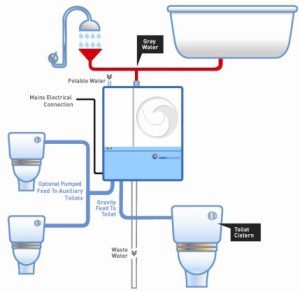 WITH increasing concern over water conservation, one of the UK's leading greywater reuse companies, Reaqua Systems Limited, is releasing new technology onto the market.
The sale is being led by Glasgow based Metis Partners, an international intellectual property (IP) specialist.
Billions of gallons of greywater, the waste water from baths, showers and washbasins, is poured away by UK households each year.
Reaqua has mastered techniques for filtering and recycling greywater for use in flushing toilets, as well as recovering energy from waste water to return low grade heating to the property.
Marketed as a practical alternative to rationing water and low-flow showers, Reaqua technology has been proven to reduce water consumption by up to 30% and energy consumption for water heating by up to 50%. The technology has already been adopted by organistions including Severn Trent and Manchester Metropolitan University.
Having previously marketed Nymph, the water turbine technology, and Secure Electrans, the advanced smart meter supplier, Metis are looking to reinforce their reputation in green technology brands with the sale of Reaqua.
Nat Baldwin of Metis Partners is currently coordinating the global marketing campaign for Reaqua: "Water use is becoming an increasingly important topic, not just in the UK but in water-restricted countries around the world.
"Reaqua's innovative technology has shown that there are solutions to the problems of water shortages and great interest has been expressed in its systems. It is the only greywater system to have been approved for connection to the mains by the Water Regulations Advisory Scheme.
"We are anticipating unprecedented interest in this sale from housing developers, water companies, sanitary ware providers, commercial and resort developers, static and mobile caravans, gyms and national supermarkets."
Assets in the Reaqua sale include trademarks, patent applications, organisational knowledge consisting of test data, design guides and technical specifications, website content and domain names.
A deadline for offers has been set for noon on 1st December 2014, with a minimum offer of £500,000.