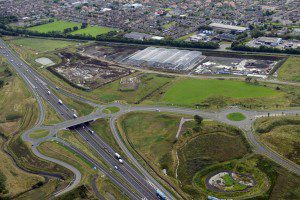 THE second phase of infrastructure is set to begin at Heartlands, opening up a further 20 acres of land for residential development.
Further investment in road and utility provision is planned for the next phase of development, adding to the already significant level of commercial and residential development on site.
The latest chapter in the history of the Heartlands Development comes one year since the privately funded M8 Junction 4a launched. Funded by The Royal Bank of Scotland plc and built by Balfour Beatty, Junction 4a provides direct access to the 610 hectare mixed residential, commercial and leisure site.
The Heartlands Business Park secured its first major business tenant earlier this year, having concluded a deal with Oil States Industries (UK) Ltd to develop a new state-of-the-art facility which is due to open in early 2015.
In the residential area of the site, Taylor Wimpey has sold the first 56 of its 99 houses on site, and Bellway has secured buyers for 24 houses. 53 happy families have now moved into their new homes at Heartlands, laying the foundations for Scotland's newest community.
Alex Muirhead, Heartlands Development Director for Ecosse Regeneration, said, "In the year since J4a opened at Heartlands significant progress has been made and we're now ready to progress with the next stage of infrastructure. With a direct link to the key route connecting Scotland's biggest cities, Heartlands has grasped the opportunity to become a major residential and business location of choice. Heartlands is one of the largest regeneration projects taking place in Europe and it is one which will help to drive the economy of Scotland's central belt. Given the scarcity of regeneration development in Scotland over the past five years, we now have a fantastic opportunity to create a vibrant and sustainable community that will attract high-quality skilled employment to the area and stimulate investment in support of the economic growth and development of the region." 
Heartlands is a mixed-use business, retail, residential and leisure destination, with a total development cost of £650m, providing around 4,000 new jobs. The site comprises 610 hectares (2.32 square miles) of land directly to the west of Whitburn, on the site of the former Polkemmet Colliery, one of Scotland's largest deep mines which ceased operation in 1985. It stretches just under 5km from north to south and is a little over 3km at its widest point. The development is sited halfway between Scotland's two biggest cities, approximately 37km from Glasgow in the west and 34km from Edinburgh in the east.
The Heartlands Development currently includes plans for 2,000 homes, as well as leisure, education and community facilities. One of the driving forces behind the Heartlands development is the creation of a business park with more than 1.5 million sq. ft. of commercial space, creating future employment for around 4,000 people.