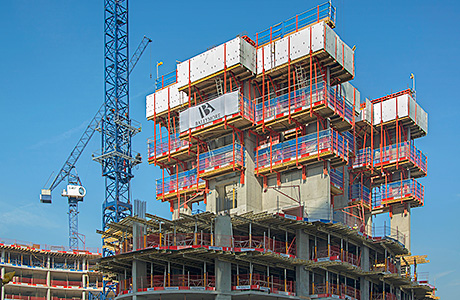 SUSTAINABLE construction methods are being used on the site of London's £110 million development New Providence Wharf, resulting in the reduction of timescales on site with the introduction of unique and fabricated formwork and scaffolding systems.
The development will consist of mixed-use residential and retail units, including a luxury 180-room hotel and a stand-out 45-storey residential tower. Stretching back from the River Thames some 400 metres, this project will complete in December 2015 and its residential Providence Tower will become one of the tallest in London's high-rise district.
Experienced RC frame contractors, J.Reddington Ltd (JRL), are currently building the in-situ frame. To tackle the challenges of this complex development they called upon PERI Ltd.
The tower's radical architecture, inside and out, including its in-step structure which will accommodate balconies and utilise space, is a result of a new design approach which has attracted worldwide acclaim. Such an ambitious design has led to new techniques and innovative fabrications being applied by PERI during the construction process.
JRL Project Manager, Michael Riordan, explained, "New Providence Wharf is an exciting project to work on, especially as it will see a former 8.2 acre brownfield site transformed into a thriving residential and leisure development.
"However, with a project on this scale that boasts such distinct features, including Providence Tower's in-step balconies and sky garden, we required formwork that was fabricated towards our specific construction needs. Thanks to our long-standing relationship with PERI, we were able to specify the equipment we needed and PERI provided a complete design application strategy.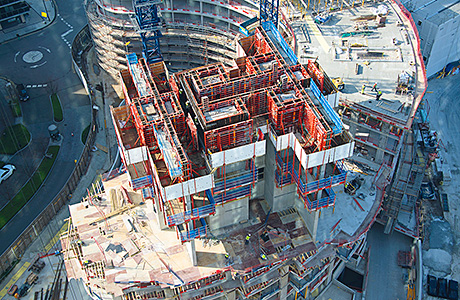 "One of our biggest challenges is making sure that as the building steps in and the wall thickness gets progressively thinner, the formwork will provide us with the capability and flexibility to continue working. PERI's internal shaft platforms and its climbing systems allow us to do this with ease, meaning that we don't have to stop and start work and we stick to the project timescale."
Senior Sales Engineer at PERI, Jack Lusby, explained how their equipment aided the construction process. "To support the foundations of the tower and progress the construction of the 45 floors, a number of systems and supporting equipment has been used and adapted to address the issue of restricted working space and provide efficiency. To help form the core of the tower and progress construction PERI's TRIO panel formwork was used in conjunction with the RCS-C climbing system. This was chosen by JRL due to its time-saving benefits and simplicity. JRL specified that the SKYDECK system be used where possible to eradicate the issue of working at height by erecting the system from below, with the RCS-C Climbing Protection Panel applied to create enclosures and ensure the safety of personnel working around the tower perimeter of the building."