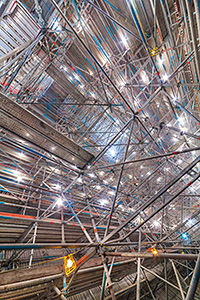 XERVON Palmers has converted to System Scaffolding for an efficient large-scale industrial access job – to facilitate the bi-annual overhaul of the interior of a huge boiler at Aberthaw Power Station.
Working closely with client Doosan Babcock and their customer RWE, up to 47 XERVON Palmers operatives have constructed a 25 x 13 metre, 19-lift Layher System Scaffold within the enormous coal-fired boiler at Aberthaw Power Station, near Cardiff.
The decision to use Layher System Scaffolding in preference to traditional tube & fitting scaffolding was made to improve the performance and efficiency of the scaffolding to suit the large, but confined space within the power station boiler and the time constraints of the contract.
A key factor was to help reduce the amount of time the boiler (which helps the Power Station generate 1555MW of electricity to the national grid, enough for three million homes) was offline – hence the switch from bespoke tube and fitting to modular scaffolding as the optimum access solution for this environment, due to safety and speed of erection and striking.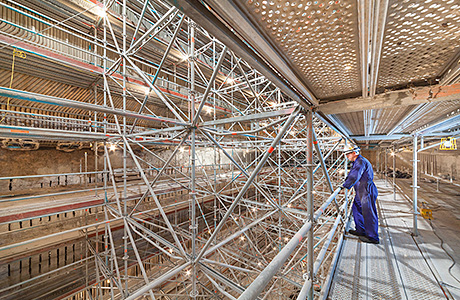 The formulaic design of the Layher scaffolding provided a neat and space efficient access solution, providing much improved, safe, clear and unhindered access platforms.
Additionally, operatives working in hot, dusty and noisy conditions had to manage carefully with limited storage facilities the significant amounts of manual handling that was required to get the Layher equipment initially through two small (48 x 18-inch) holes – to allow the erection of the first three scaffold levels and as work progressed materials were passed through larger doorway-sized holes above levels three to 19.
"The decision to move from conventional tube and fitting to modular System scaffolding has proved to be a wise choice, as we were able to complete the installation of the Layher scaffold more efficiently with considerably less components. This helped make the overall work environment safer and quicker," said Ian McFarlane, Director at XERVON Palmers.
"As a company, we are starting to see a rise in demand for System Scaffolding jobs now. System is the scaffold of choice in Europe and very popular in Scotland too, so it's interesting to see it taking a more prevalent role in England."
Parent company XERVON GmbH is one of the biggest scaffold companies in Europe, where System Scaffolding is more commonplace than in the UK.
XERVON utilise Layher Scaffolding as their core scaffold system, with over 70,000 tons in stock and are encouraging Palmers to use more System Scaffold in the UK.
A spokesperson for XERVON GmbH said, "System Scaffolding, like Layher is commonly used for many different access jobs in Europe and we are starting to see – and suggest – a substantial rise in its use in Great Britain by XERVON Palmers operatives. The job at Aberthaw Power Station lends itself perfectly to System Scaffolding, thanks to its efficient, space and time-saving construction."