Figures indicate that around 155,000 people are on waiting lists for housing in Scotland. Alex Goodfellow, group MD of Stewart Milne Timber Systems, explains why offsite construction could help reduce the national shortfall of affordable and social housing.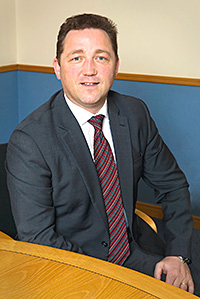 AFTER a long and difficult economic slump, the UK is finally experiencing an upturn in construction, and more specifically housebuilding, activity. In Scotland, new house starts were up 16% in the year to March 2014, with reports across the UK showing similar surges.
However, a shortfall exists between new homes being built and housing required, particularly in the affordable and social housing sectors.
Getting quality, affordable new homes ready for tenants is a major priority for the social housing sector, but striking the right balance can be a difficult task. With economic lessons learned from the recession and a heightened legislative focus on sustainability, it makes sense that any approach to providing more affordable housing should seek to maximise cost efficiencies. In my opinion, offsite construction provides an ideal solution.
By adding value for providers through increased speed of build, reduced waste, and more cost effectiveness overall, offsite construction can help local authorities and social housing providers save money in the short and long-term. Because the build process is a great deal quicker, moving tenants in, and establishing rent payments also happens faster.
This also brings with it notable cash cycle benefits. The faster a return is realised on initial outlay, the quicker you will have access to finance.
With cash freed up, you can fund ongoing development or begin new projects. This, along with the speed of built benefits and cost effectiveness of the approach, makes it possible for projects to be cash positive from slab.
What's more, offsite construction results in higher standard products. Components manufactured offsite are factory built, under accredited quality control systems, guaranteeing a high standard of product, while also allowing for a faster production rate and timely.
These high quality components, combined with a fabric first design approach, deliver excellent performance.
As the homes' energy efficiency is primarily achieved through their envelopes, performance is guaranteed without the need to retrofit renewable technology in order to hit targets.
This has the added benefit of meaning the homes require little maintenance, with low running costs. In fact, the Structural Timber Association estimates that timber frame can reduce a home's energy consumption by a third.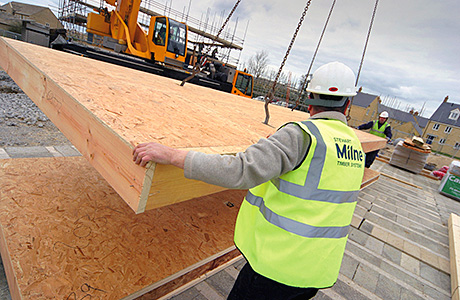 Once the timber frame arrives, it is normally erected by the offsite suppliers themselves in a matter of days, reducing the number of contractors needed on site to complete the build. In the case of timber systems, components such as windows and doors can be pre-fitted, further reducing site deliveries, double and treble handling of goods, as well as eliminating manual handling of heavy items.
Another advantage is reduced foundation costs because they use less material. The increased speed of build requires less scaffolding, while onsite waste and disposal costs are lower, as waste is managed at the factory. All of this works together to produce a streamlined, shorter, and more cost-effective build programme where volume can be achieved quickly and with high quality – all the while saving costs on prelims, labour, and power.
In one example, we used our award-winning Sigma II Build System to complete a set of affordable terraced houses three months ahead of schedule. In another, we finished three blocks of 64 one and two bedroom flats – a third of which were affordable housing – within seven months. In both cases, this resulted in significant cost savings for the housing providers involved.
At a time when sustainability and cost effectiveness are so sharply in focus, houses which are faster and more cost effective to build, cheaper to maintain, and are more environmentally sustainable seem the logical solution.