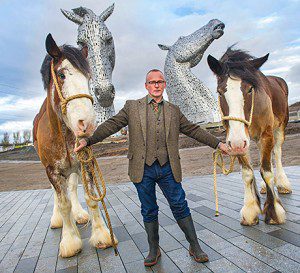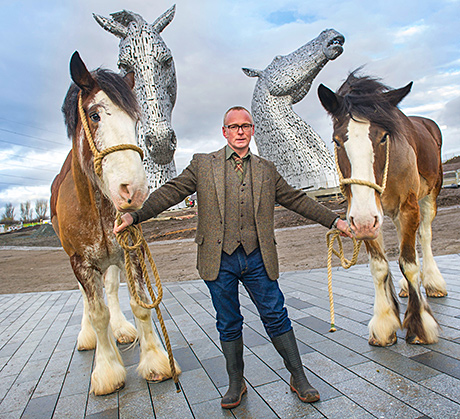 THE Helix Development in Falkirk has won the Saltire Society 2014 Civil Engineering Award, presented in association with Institution of Civil Engineers (ICE) Scotland at a special ceremony at the National Museum of Scotland.
Established in 1981, the purpose of the awards is to recognise excellence in Civil Engineering in Scotland and has been showcasing the very best in Scottish Civil Engineering for over 30 years.
Beating off competition from other well-known projects such as the SSE Hydro in Glasgow and the Kessock Bridge refurbishment in Inverness, The Helix Development, famous for its magnificent Kelpie sculptures, was announced as the 2014 recipient of the Award at Wednesday evening's ceremony.
Transforming a 300-hectare site from disused scrubland into a modern urban green space connecting 26 communities with 27km of pathways, The Helix is completed by Andy Scott's iconic Kelpie sculptures. The awe inspiring project comprises a new 800m access road and 75 space car park, a Greenspace Park; and a 1km extension to the Forth and Clyde canal – which included the creation of an inland lock and a tidal sea lock, as well as two mechanical moving bridges and two static bridges.
Since its opening in April 2014, The Helix Development has attracted an estimated 500,000 visitors.
Five runners up also received Commendations for outstanding engineering in this year's Awards.  They were:
·         Dounreay Low Level Waste for its 'Engineered containment', a project exemplifying the role of the engineers in delivering safe and environmentally effective solutions to create Scotland's first  low-level radioactive waste facility.
·         SSE Hydro, Scotland's largest indoor entertainment venue, recently ranked the 3rd busiest music venue in the world and was a key venue for the 2014 Commonwealth Games.
·         Waverley Station for its £100M, 3½ year refurbishment programme which has included the reconstruction of the roof, renewal of concourses and platforms, upgrade of station utilities and facilities and platform drainage improvements.
·         Shore Road Bridge Reconstruction in Stirling, a major element in the £80m advance clearance works for National Rail's £650m Edinburgh to Glasgow Improvement Programme (EGIP).
·         Glentarken Bridge.  Before its construction, walkers and cyclists taking the Glen Tarken Way on the dismantled railway track from Strathfillan to Lochearnhead were forced to take a detour via a busy main road.  The new Bailey bridge, spans 33m and constructed across the a deep gorge formed by the burn some 40 metres below now eliminates the detour. 
Convenor of the Awards Panel, Gordon Pomphrey, said, "The Adjudication Panel had no hesitation in recommending The Helix Development for the overall Saltire Civil Engineering Award 2014. In particular I feel it merits award in the Project, Design & Construction Categories. The Project involved a wide range of stakeholders from its conception and throughout the design process and provided regeneration to the area resulting in tangible benefits to the environment, local community and economy. "There is no doubt that the Kelpies have quickly become another iconic must see visitor attraction and will be an internationally recognised landmark for many years to come."