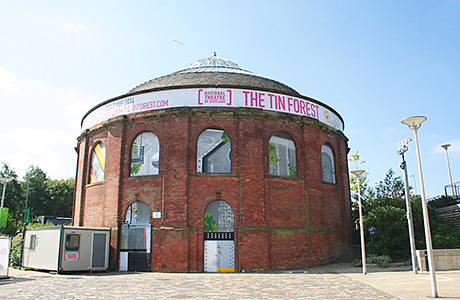 A derelict historical building on Glasgow's Clydeside has been given new life by the National Theatre of Scotland as part of the Glasgow 2014 Cultural Programme and Commonwealth Games.
The South Rotunda has been a landmark of Glasgow's waterfront for over a century. One of two on the River Clyde, it was built in the late 19th Century as part of the original Glasgow Clyde Tunnel.
Closed to the public in 1980, the South Rotunda had lain unused ever since.
Coinciding with the Glasgow Commonwealth Games 2014, the National Theatre of Scotland decided the unique dome-shaped building would be perfect to host their newest production and festival; The Tin Forest.
Turner Access Contracts Division used the Turner OCTO® Scaffolding System to provide the structure underneath the South Rotunda to allow new flooring, staging and seating to be installed and help restore the landmark back to its former glory.
Turner OCTO® System Scaffolding is designed for greater versatility; achieved through the design of key scaffold components. The Turner OCTO® joint connection allows a 360° movement, which can accommodate eight components in one cup at the same level. This degree of versatility accommodated the circular nature of the stage and internal Rotunda walls.
The Tin Forest invited the people of Glasgow to retell the city's story and to reimagine its future.
The South Rotunda building was transformed into an arts and performance arena, where The Tin Forest story and ten brand new international youth theatre productions were presented to an international audience.