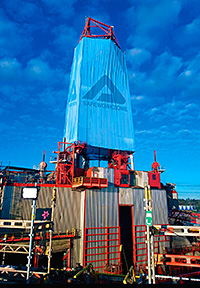 POWERCLAD Flame Retardant Filter Sheeting from Industrial Textiles and Plastics has been successful in withstanding the rigours of the exposed conditions in the North Sea to facilitate the refurbishment of an oil rig derrick.
Maintenance and inspection work on offshore oil rigs is notoriously difficult and dangerous.
Recent repair work to the derrick on the Bideford Dolphin, positioned off the coast of Norway was a particular challenge due to the extreme wind speeds.
The two-fold effect of these conditions is an accelerated corrosion of the rig structure, and a difficulty in repair and refurbishment works.
Built in 1975, the Bideford Dolphin forms part of the Dolphin drilling fleet consisting of two deep water units, five semi-submersible drilling rigs, as well as a support vessel and accommodation unit.
Dolphin Drilling is one of the longest established independent drilling contracting companies in the offshore arena tracing its roots back to offshore exploration activity in the North Sea in the 1960's.
Specialising in innovative access solutions for fabric maintenance and inspection, Skanits AS was selected to undertake the repair work to the derrick on the Bideford Dolphin.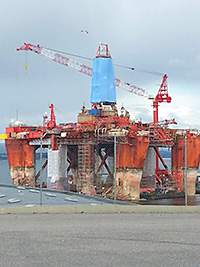 The containment system on the derrick was erected in 48 hours and remained secure for the 19 days, protecting the workforce and allowing drilling operations to continue.
Alf Rune Falck, Director of Skanits AS, explained, "The Powerclad sheeting withstood the fierce conditions and afforded excellent protection for the workforce and equipment. The use of the safe work zone system enabled us to work at several levels at one time, saving us a total of 10 days."
Managing Director at ITP, Marc van der Voort, added, "Powerclad Filter Sheeting provides exceptional weather protection in exposed locations and harsh climates such as the North Sea.
"It is a closed woven mesh for improved ventilation, as air permeability is desirable in many installations to contain debris and dust, disperse paint solvents and dry out interior works.
"Our expertise is in Flame Retardant materials, which should always be used for works on occupied buildings or on safety critical installations such as shipyards and refineries."
Working within a demanding framework of time, budget and safety limitations, the project was successfully delivered against all criteria with no disruption to the daily operations of the rig.