PERI Ltd is contributing to major time and cost savings on the most ambitious infrastructure project in Scotland's history – the Queensferry Crossing – thanks to its combination of service, technical support and tailored engineering solutions.
RISING from the waters of the Firth of Forth, the Queensferry Crossing is a truly impressive structure that boasts modern design using the latest techniques and technology.
An ambitious project, the construction process started in September 2011 and, on completion in October 2016, will be 207 metres above high tide (638ft) and boast an overall length of 2.7 kilometres (1.7 miles).
Estimated to involve about ten million man hours over the building period, the construction of the bridge has now reached the halfway stage and is currently running on time and under budget.
PERI's involvement is clear to see, with its distinct red and yellow formwork and scaffolding support systems featuring heavily since day one, and its equipment being used for the majority of the network and infrastructure, as well as supplying equipment to aid the construction of the main bridge, pre-cast yard and marine.
During the past three years, PERI has been asked to provide cost-effective and time-saving solutions to a number of RC structures, which has reduced risk and time.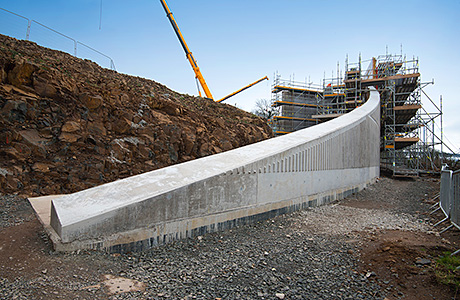 One of the main challenges was delivering a large volume of fabricated VARIO shuttering for the North Main Crossing Abutment.
PERI overcame this problem by constructing and fabricating its curved VARIO formwork off site at its factory in Rugby.
This allowed the contractor to pass all the risk to PERI for the build, including the feature finish profile which was cut by CNC machinery, with marine varnish being used to protect it.
Having made the systems within factory conditions quality was assured and there was no risk of delay due to adverse weather or contractors having to spend time assembling the system themselves.
With no room for error, design, precision and delivery have to be perfect from PERI's side as their support continued through the north and south infrastructure. Designs had to be clear and concise and PERI took no chances.
Fabricating a small-scale sample shutter panel, they demonstrated on site how they could modify products to accommodate the needs of the client.
PERI's VARIO system was utilised to cast all the diaphragm walls on over-bridge structures ESQ02 & ESQ0 abutments. These shutters had to be specific in design as they had to be placed between the in-situ steel beams.
The South Main Abutment will also be built using VARIO.
The benefits of being quick, light and versatile meant those using it on site were able to get on with the job in-hand without having to schedule extra time into building numerous systems, with the fabricated designs delivering exactly what was promised and expected.
PERI's sophisticated yet simple VKP system has also come into play.
Saving time and money, VKP has been able to meet the requirements to provide quick and easy builds that can be moved around the site and handled by the contractor.
PERI supplied a demonstrator on site and provided ongoing technical support which led to a delivery on this system being brought forward by a week as a result of the supplier's training.
Spanning a five-year period, the project is constantly evolving and is being built in a multitude of stages, with an intricate and essential network of bridges in North and South Queensferry, being built to provide the connection to the Queensferry Crossing which will eventually boast the use of 30,000 tonnes of steel.
This passion to succeed and assurance of quality positioned PERI as a trusted partner and led to the project using a number of other systems that continue to be used including:
• TRIO – The flagship system, this was used for all RC walls, abutments, culverts, wing walls and to protect a BP pipeline. No matter how challenging the shape, the versatility of TRIO can always be configured so that a traditional shutter is not required.
• RUNDFLEX – This system was used on the main abutment north bases giving true radius for main wall base pours. Ideal for quick adjustment and designed for a fresh concrete pressure of 60 kN/m².
• PERI UP – The preferred system of scaffolders due to its ease of erection and safety qualities. PERI UP is simple and the systems benefits from every components being located into specific positions. Everything locks into place – ideal for tight timescales and last-minute adjustments. Its versatility and speed makes it the preferred choice for site.
PERI's involvement within the Queensferry Crossing has provided advantages and opportunities for the contractors on site, with user-friendly, uncomplicated and effective systems at the heart of what is Scotland's most ambitious infrastructure project in its history.
Effective time management can be the difference between success and failure. PERI has acknowledged this with its use of innovative and adaptable equipment and technical expertise, ensuring that at the halfway point, Queensferry is on time, supported and safe.