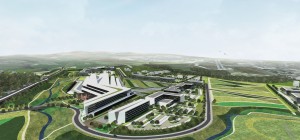 UPDATED plans for a proposed new multi-million pound Aberdeen Exhibition and Conference Centre will go on show this week.
Henry Boot Developments – Aberdeen City Council's development partner for the project – will launch the second round of public consultation events on plans for a new exhibition centre at Bucksburn and the redevelopment of the current AECC site at Bridge of Don today (Sept 11).
Fresh artists' impressions of the interior and exterior of the new event centre reveal the progress made by the development team since the first consultation exercise in May; while proposals for a mixed-use development at the Bridge of Don site now include two residential-led options based on the feedback received from consultees to date.
A green energy centre which would provide enough power for the new AECC and potentially the wider area is proposed for the Bucksburn site, along with the new multi-use exhibition and conference centre, a 200-bed four-star hotel, parking, and parkland.
The first option for the Bridge of Don site incorporates business and retail space, while the second proposes a household waste recycling centre. Both options retain residential development and an enhanced 1,000 space Park and Ride – with all participants this time round being asked to state their preference.
More than 1,000 people took part in the first phase of public consultation, with the majority of respondents voicing support for the development of the new AECC and the range of uses proposed for the Bucksburn site:
• 72 percent voiced support for the evolving design of the new AECC;
• 70 percent said they agreed with the proposed range of uses for the Bucksburn site;
• 85 percent stated that the Bucksburn site should include more scope for walking, cycling and recreational pursuits.
The response to plans for the redevelopment of the Bridge of Don site was split:
• 45 percent said they agreed with the range of proposed uses for the  site, while 45 percent said they disagreed;
• Suggestions made by the public for revised plans for the Bridge of Don site included sports, business and retail facilities, as well as housing and schools.
Henry Boot Developments regional manager Nick Harris said: "We've reached an exciting stage in the project and I'm looking forward to showing off our revised proposals for a new Aberdeen Exhibition and Conference Centre, and for the site at Bridge of Don. We've listened closely to the many views expressed during the first round of consultations and I think people will be very interested to see our updated images and plans and to see the changes we've made."