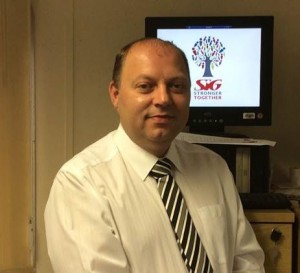 BUILDING products manufacturer Steadmans has promoted Darren Hall to the new post of sales and operations manager for Scotland and Ireland.
Darren, who has been with Steadmans for three years, was previously sales office manager for Scotland, overseeing the operations of the company's sites in Uddingston, near Glasgow, and Fyvie, Aberdeenshire.
The broadening of his role follows an extension in the range of products Steadmans offers customers, through the entry of fellow roofing product manufacturers Trimform and United Roofing Products (URP) to the SIG plc group, supplier of specialist materials to the construction and related sectors, which has included Steadmans for several years.
Trimform, based in Huntingdon, Cambridgeshire, manufactures flashings, gutters, rainwater systems, bespoke metal fabrications and profiled metal sheets. URP, located in Cullompton, Devon, makes bespoke metal roofing sheets, cladding and flashings for the agricultural, industrial and commercial, and consumer markets.  
Darren's new post reflects his significant influence on Steadmans' progress in the Scottish market during recent years, indicated by the growth of its Uddingston sales and production collection centre team to improved premises in 2013. He has also contributed substantially to the successful operation of the Fyvie sales and distribution centre, which has exceeded all its sales targets since opening in May 2012.
Providing a dedicated resource for the heavily agricultural market between Aberdeen and Inverness, the Fyvie facility receives two deliveries a week from Steadmans' manufacturing facility near Carlisle as well as delivering directly to sites.    
Darren's new role also reflects the inroads Steadmans is making into the Irish market – where the company invested in relocating its headquarters from Banbridge, County Down, to Belfast and recruiting additional sales staff – early in 2013. 
Darren said, "I'm looking forward to building on our rich heritage in many sectors and unsurpassed ability to provide precision engineered products. I'll be striving to extend our established reputation for quality, whether it's reflected in our efficiency, technical support capability, customer service or ability to deliver anywhere in Scotland or Ireland, for example."
Ian Hodgson, sales director, Steadmans, added, "The new post reflects the substantial contribution Darren has made to our success in Scotland during recent years. It's been obvious for some time that he was capable of delivering yet more in a slightly broader role and we're delighted that he now has this. Darren is a senior member of our organisation and we're confident he'll play an even more prominent role in our continued expansion during the years ahead."