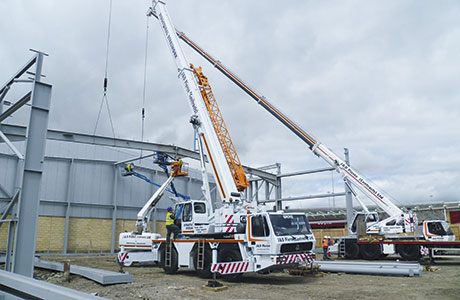 J & D Pierce (Contracts) Ltd has invested £1.5 million on two powerful all terrain mobile cranes.
The acquisition of the latest technologically advanced vehicles ensures they will remain at the forefront of the structural steelwork industry.
As lifting, positioning and laying of precast concrete products or decking has now become the norm, J & D Pierce is well equipped to carry this out in conjunction with the erection of the steel structure and these new vehicles should help to make this delicate operation easier.
J & D Pierce has now grown their erection services department to 50 employees. This includes erectors, foremen, crane operators, supervisors and managers.
The two new cranes will complement their existing fleet of six mobile cranes, four articulated lorries, 40 trailers, 15 mewps and two telehandlers.