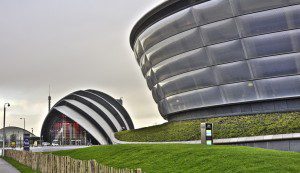 WITH Glasgow set to be in the world spotlight for the duration of the 2014 Commonwealth Games, Construction Scotland is taking to social media to ask which buildings in the city visitors should make sure they have on their must-see list.
Utilising @ConstructionSco on twitter, the simple question being asked is 'What's your favourite  Glasgow building?' with the hashtag #favouriteglasgowbuilding
Nominations so far include traditional and modern, from The People's Palace and Queen's Cross Church to the Riverside Museum and the Hydro.
Ed Monaghan, Chair of Construction Scotland, explains the thinking behind the campaign: "With Glasgow already hosting thousands of visitors from around the world for the Games it's an ideal time to find out which of the city's buildings are best loved and to be recommended to people seeing Glasgow for the first time.
"We hope to engage with as many people as possible on Twitter and LinkedIn to find out which building they like best and encourage them to share their vote with as many others in their social networks as possible.
"My personal favourite is Hillhead Primary School. Any great building for me should nestle comfortably within its setting; Hillhead PS does that perfectly. The school's design is influenced by the site's stepped topography, sloping heavily from west to east. At the highest point the building is single storey. The entrance steps and ramp give it an almost theatrical entrance – this is more than just a school, it is a place of adventure."
@ConstructionSco will run the Twitter campaign for the duration of the Games and announce the building with the most votes on 4 August.