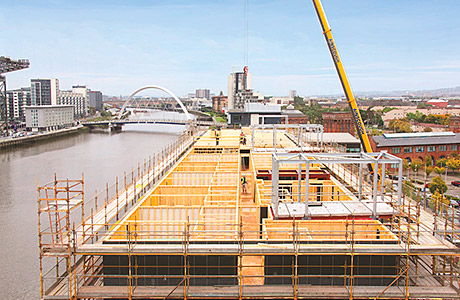 THE Pacific Quay Premier Inn is a six-storey 144-bed hotel and restaurant development located in the heart of Glasgow, designed by Lawrence McPherson Associates, for hotel operators Whitbread Plc.
The area is Glasgow's premier commercial development and is already home to BBC Scotland and STV.
This new hotel will be immediately next to the media companies, with the new Hydro and Glasgow Science Centre making up this prestigious development. The new Premier Inn required significant upfront design and collaboration between the different construction teams owing to the complexity of the project.
Having an already strong relationship and history with contractors Ogilvie Construction, as well as the architect, Stewart Milne Timber Systems also cultivated a thorough understanding of the specifications of Premier Inn's parent company, Whitbread Plc and was able to offer insight and advice with each of the other teams from an early stage.
Building regulations required enhanced safety standards such as 'design against disproportionate collapse', the effect of which is to limit the extent of any resultant collapse relative to the cause of the damage.
Stewart Milne Timber Systems engineered the solution using a system of large span floor cassettes and stressed skin wall ply clad wall panels with key element posts.
The building comprised four storeys of timber frame integrated on top of two levels of concrete and glass. Stewart Milne Timber Systems used its design experience and technological expertise to ensure the project was delivered in an efficient and cost effective manner, while proactively engaging each project partner to ensure that all materials and additional trades were integrated into the build schedule correctly and sequentially, streamlining the process and safety of the site.
Insulation and air tightness details were also incorporated in line with Whitbread's corporate social responsibility programme which aims to reduce carbon emissions by 26 per cent by 2020 throughout the company's operations and building projects.