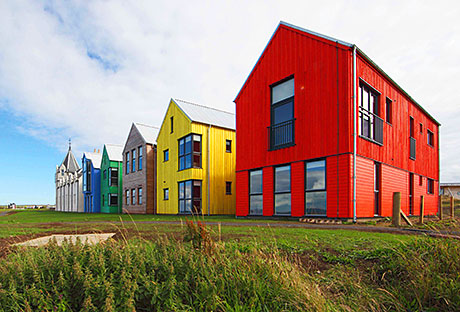 A rundown hotel at John O'Groats has been dramatically transformed by GLM's architects working with its project and construction management teams.
The second phase of the redevelopment was handed over in August to client Natural Retreats, which has re-launched the hotel as The Inn at John O' Groats, offering 16 luxury holiday apartments with interiors designed in conjunction with interior designers NoChintz.
Occupying a prominent position in the famous coastal village, the old John O' Groats Hotel had languished for over 15 years in ramshackle late Victorian baronial-style, a reportedly depressing sight for "end-to-enders", the hardy souls who complete the journey from one end of the UK to the other.
Aiming for a bolder and more iconic journey's end, GLM resisted the temptation to "tone things down". At the outset various modern extensions were removed to reveal "a dilapidated but pleasing building". Although it would have been cheaper to demolish, says GLM, the decision was taken to restore, remodel and add a colourful Nordic-inspired timber-clad extension.
Ian McKee, GLM Director and Project Director says, "One of the keys to the success of the project has been the use of a 'construction management' procurement route, a departure for us from conventional so-called 'traditional' procurement'. It enabled us to maximise the use of local skills, labour and resources and to deliver the project within tight budgetary and programme constraints. Although challenging, this was in effect a double win – our client got what they wanted and we gained valuable experience that we can apply to other projects".
The new hotel includes 16 luxury holiday apartments offering dramatic views in addition to interiors designed in conjunction with interior designers NoChintz.