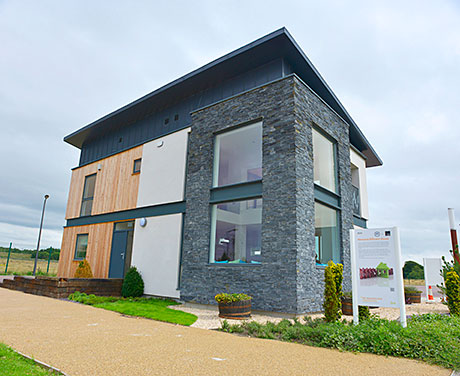 A resource-efficient house is being showcased by the Scottish Government's Resource Efficient Scotland programme (managed by Zero Waste Scotland).
The three-bedroom house, built in partnership with Tigh Grian Ltd, employs construction materials and methods in a way that is said to harness best practice in efficiency, from using a pod design put together off site in order to reduce the effects of weather conditions on build times, to the use of wall insulation that can be recycled post deconstruction.
Even the fixtures and fittings come with re-use in mind: kitchen work surfaces made from material reprocessed from recycled coffee cups; recycled paint for the décor; and kitchen bar stools made from reclaimed wood from whisky barrels. Intended to demonstrate that sustainability in construction doesn't have to be expensive, the house is situated at the BRE Innovation Park at Ravenscraig.