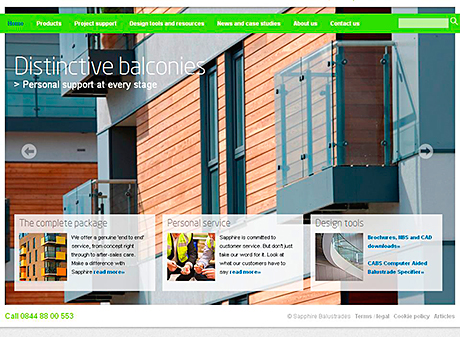 A new web site for Sapphire Balustrades is now live, offering fast track navigation to the latest information about industry renowned balcony and balustrade solutions, project support and design resources.
Featuring a user-friendly design and handy online tools, www.sapphirebalustrades.com provides an invaluable web resource for anyone involved in specifying, drawing or procuring balconies and balustrades for new build and refurbishment projects in the residential, commercial, and public sectors.
"We are passionate about ensuring that our website is seen as a resource centre of useful information not just a combination of pictures and 'hard sell' sales talk," says Nick Haughton, Sapphire's Marketing Manager. "To deliver our vision we conducted research with a number of industry volunteers, and employed user tracking software to understand what each volunteer found useful or helpful about our site. Using this knowledge we have built our website resource centre"
Using simple pull-down menus, visitors to Sapphire's new web site can find all the information they need at the click of a mouse. This includes full product technical details and NBS specifications for the company's collections of handrails, balusters and infill panels, from the elegant Crystal Frameless Structural Glass system to the strength and simplicity of the Aluma aluminium balustrade system.
In addition to covering Sapphire's core products and enhancements, the new web site features a very comprehensive selection of balconies (from Juliet balconies to Bolt-on cantilever balconies), together with brochure downloads, CAD details and NBS information. Sapphire has also added a direct link to CABS – Computer Aided Balcony Specifier – a free online tool which guides users through the key stages in specifying the style and structure of their chosen balustrade and handrail system.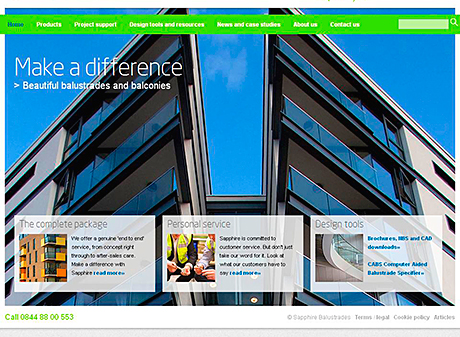 Included in the web site's 'Project Support' pages is an overview of Sapphire's Project Pathway, the company's concept to completion service package, along with details of a peace of mind 12-year warranty on standard product ranges.
Among the options in the web site's 'Design Tools and Resources' is a series of videos showing Sapphire's manufacturing operations and installation teams in action. This section also outlines Sapphire's RIBA-approved CPD presentation, which includes regulation and design guidelines and advice on materials and finishes.
Sapphire's impressive credentials as one of the UK's leading balustrade and balcony manufacturers are easy to check with a click on 'About Us' in the menu bar. These pages cover everything you need to know when considering Sapphire as a supplier, including the company's industry accreditations, health and safety policy and a selection of numerous customer testimonials.
In addition to providing an online product data and design resource, the new Sapphire web site has an online news section, regularly updated with all the latest company news and case studies, together with a library of product and project images.
Summing up, Nick Haughton says: "Designed to make life easier for architects, designers and building professionals, our new look web site provides a one stop source of information and advice for creating beautiful balustrades and balconies."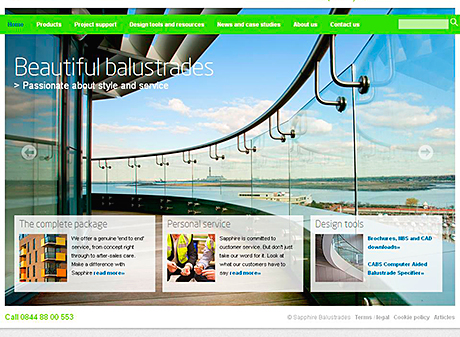 For more information, please visit www.sapphirebalustrades.com