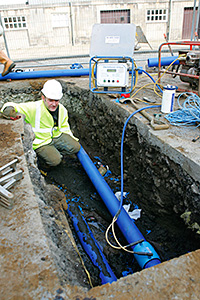 IN a project that snakes all the way from Orkney to Dumfries and Galloway, Scottish Water is carrying out the country's biggest water mains renewal.
Contractors have now completed the first phase and when the project is finally completed in April 2015 enough pipe will lave been laid to cover the distance from Edinburgh to Mali, around 4,300km.
The scheme started in April 2010 and the first phase has seen 2924km of pipes upgraded to meet strict water quality standards. Comprising 60 individual projects, it has also supported jobs with the four key contractors involved: Morrisons in the north and Farrans, George Leslie and Barhale in the south.
Delivery teams have been challenged by difficult environments and unusual discoveries. For example, the Beaker burial ground in Duns, which is believed to be around 3,000 years old, was unearthed by workers during the first phase of development.
Contractors were also faced with the extremely challenging Whitehillocks water mains rehab project which required around 135,000 metres of upgrades to water mains in rural areas and towns, as well as the need to cross the inaccessible Rocks of Solitude ravine in Angus.
To ensure water supply was maintained at all times, 15km of additional by-pass pipe was also put in place and relocated 27 times as the project progressed.
Tom Davidson, programme manager for the project, said: "The work has involved flushing, re-lining and replacing water mains all over Scotland to ensure optimum water quality, reduce leakage and also reduce the likelihood of burst water pipes.
"Some water mains in Scotland have been in place for decades and require upgrading to ensure they deliver maximum water quality and security of water supply. Water main networks are comparable to structures like the Forth Bridges and therefore require constant maintenance to ensure they perform as designed. This work will also ensure we continue to comply with standards laid down by the Drinking Water Quality Regulator."
More than 13,800 properties have now been removed from the low pressure register since it was devised in 2002. It now sits at 608 and is falling every month. Leakage numbers are also falling as a result of using the latest technology to locate and reduce leaks. It has now been reduced by 44% since 2002/03.
Water quality in Scotland is at its highest ever level with 99.88% of supplies taken from customers' taps meeting the required standards in 2011.
Image – With the first phase now completed, the over-all programme remains on course for April 2015.