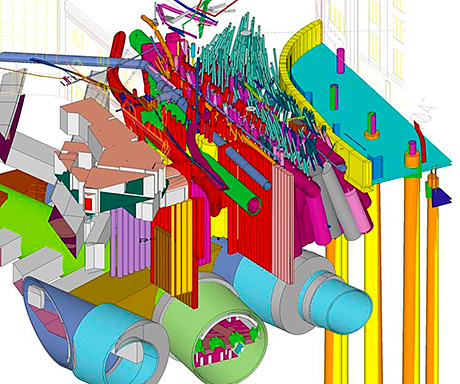 THE project to upgrade a London underground station has beaten off competition from the US and Japan to land a top award for innovation.
The joint venture of Taylor Woodrow and BAM Nuttall, and London Underground, took the prize in the Be Inspired Awards for their jet grouting operation at Victoria Station. It led the field in the Innovation in Construction category.
Huw Roberts, Bentley's vice president for core marketing, said the projects in the category exemplify over-all excellence during the construction phase of a project. "They demonstrate a clear return on investment via shortened project schedules, mitigated risks to avoid overruns, and the application of technology for advanced work processes within the construction workforce to benefit all stakeholders."
The upgrade includes a series of sprayed concrete tunnels connecting new and existing parts of Victoria Station in a site crowded with existing infrastructure. To make the gravel substrate suitable for tunnel construction, 2,500 jet-grout columns are being installed by the JV.
"The joint venture carried out its initial design of jet grout column orientation using MicroStation," added Roberts. "Survey information on the location of services and utilities was fed into the 3D model, column orientations were adjusted, dynamic sectional views were reviewed, and construction planning visualisations were created. Geometry data was then transferred from the model to the rig control system, and as-built data was fed back into the model, eliminating data entry errors.
"The scale of jet grouting on this project is unprecedented across the United Kingdom. Taylor Woodrow BAM Nuttall JV's use of information modelling to not only define the location of the columns but also allow data to be assigned to the model entities was a huge undertaking that pushed the boundaries of how this type of work is accomplished."
Judges described the project as: "…a perfect case study in how critical infrastructure projects need precise engineering information modelling for construction, information acquisition, and information management to succeed in execution, with minimum impact on, and maximum benefit to, the public."
Jez Haskins, the jv's project director, commented: "We are extremely proud of our accomplishments on this complex and challenging endeavour. Victoria Station on the London Underground is a key part of London's transport infrastructure, with some 82 million people passing through the interchange each year, making the job site an incredibly busy one.
"Existing constraints meant that the new tunnels we designed could not be located in the ideal tunnelling medium of London clay, so ground improvement was required to treat the gravels to make them suitable for sprayed concrete tunnel construction.
"Moreover, due to historic use of the station's development, the site has become saturated with numerous services and utilities, for which there are few accurate records describing their location in sufficient detail. These complexities and others would have made the execution of this complex ground treatment project difficult if not impossible without the deployment of the innovative MicroStation information modelling software, coupled with the in-depth knowledge, talent, and dedication of our well-trained and highly skilled project teams."
OTHER UK WINNERS
Innovation in Generative Design
Robin Partington Architects
Park House,
London
Park House is a 1.04-acre city block redevelopment on the edge of Mayfair calling for retail space at basement, ground and first-floor levels; seven floors of office space on the western end; and 39 private flats to the east. The £100m project posed structural challenges due to its unique façade, mixed use, proximity to an underground tunnel and retail requirements of a world-renowned location. Generative Components enabled Robin Partington Architects to explore various iterations of glass technology and its abilities.
This category features projects that have used associative and parametric modelling to automate design processes and accelerate design iterations. These projects exemplify new ways to efficiently explore alternative building forms without manually building the detail design model for each scenario. Using generative design accelerates design and documentation efficiency.
Innovation in Building
John McAslan + Partners
King's Cross Station Redevelopment
London
Advanced technology aids in the delivery of high-quality buildings in terms of aesthetics, adherence to program, and meeting budget. It is also increasingly critical in areas of environmental sustainability, operational performance, and compliance with regulations and accreditations. Moreover, today's buildings must provide a clear return on investment.
Projects in this category demonstrate excellence in designing, building, or operating one or more buildings.
The £547m redevelopment transforms the historic station into a modern transport interchange. Restoring the historic façade, vaulted train shed, and other features – as well as interfacing with existing rail, underground, and road networks – required ongoing verification of the design.
McAslan + Partners used MicroStation to produce 3D representation at all stages. The benefits of rapid file sharing and high-quality validated data extended from schematic design through to construction, producing time and cost savings.
Image – Top, The contractor had to work in a very tight environment "saturated with numerous services".