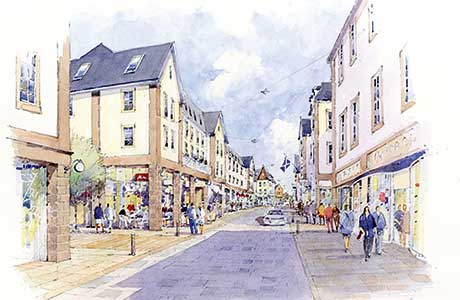 AN ambitious plan to build a new town named after one of Scotland's most famous social reformers has been lodged with South Lanarkshire Council.
The Hometown Foundation, a registered charity that helps build new self-sustainable communities and regenerate rundown areas, is behind the project to build a community-owned town of 3,200 affordable homes in the Douglas Valley near Lanark.
The proposed village is to be called Owenstown after Robert Owen, who improved the lives and working conditions of mill workers at nearby New Lanark 200 years ago.
An application for planning permission in principle has being lodged for a project the developer says will be self-sufficient, eco-friendly and run on a co-operative basis by its residents.
Details of the town, said to be the first of its kind in the UK, were first revealed three years ago. Since then a programme of public consultation and exhibitions has taken place.
Hometown said some modifications have been made but the objectives of a not-for-profit, co-operative model and the commitment to providing local jobs, remains the same.
Since the idea of the town was first revealed, the foundation says it has received widespread interest from potential residents and businesses from all round the UK and beyond.
The town will be built on a 2,000-acre site near the village of Rigside, and eventually, under a 10-year programme, provide homes for 8,000 people.