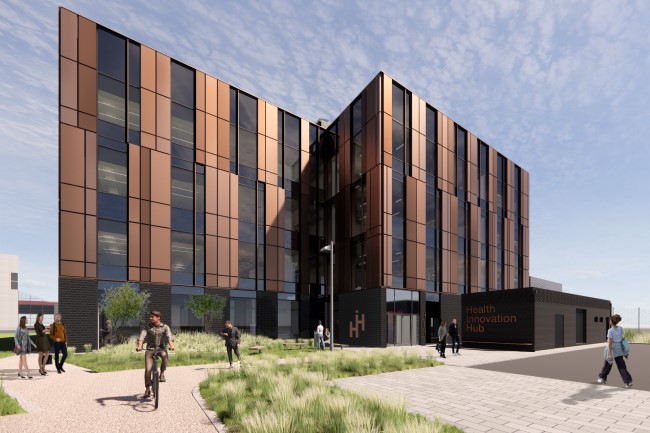 MORRISON Construction is leading the build of a 'world class' Health Innovation Hub in the Govan area of Glasgow.
The University of Glasgow and Kadans Science Partner, with support from Scottish Enterprise, are behind the project, which is due for completion in summer 2025.
Described by the learning institute as a 'flagship investment' within its Riverside Innovation Grid, it added that the hub will attract new innovative businesses into the area, as well as delivering local benefits to the community through job creation.
The hub will be home to commercial businesses as well as the University of Glasgow-led Living Laboratory for Precision Medicine – an internationally programme which is focused on translating cutting edge research and healthcare innovation into a real-world clinical setting.
A 'key' aspect of the programme will be to enhance collaboration and partnerships between academia, industry, clinicians, and the community in order to better tackle healthcare challenges for the benefit of patients and the NHS. It is hoped the 'world-leading' work carried out at the hub will go on to help address some of the biggest healthcare challenges faced nationally and globally.
Designed to be 'highly flexible', the hub includes both laboratory and office space for life science and health businesses, with research links to both the University of Glasgow and the Queen Elizabeth University Hospital. There will be an accessible ground floor, with a café and collaboration space, to create a useable space for the local community. The building will also be home to a digital health validation lab, which will the university said will enhance the evaluation and validation of digital health technologies for clinical use, accelerating their adoption into clinical practice.
Professor Iain McInnes, University of Glasgow VP and head of the college of medical, veterinary & life sciences, said, "The University and Kadans Health Innovation Hub will be the cornerstone of our UKRI Strength in Places-funded Living Laboratory for Precision Medicine.
"The world-class facilities created here will be key to the supportive and dynamic ecosystem that brings together academics, industry partners and the NHS to achieve this goal. The Health Innovation Hub will be a catalyst for collaboration and innovation to better tackle global healthcare challenges, bringing real-world benefits to patients and the NHS."
Uzma Khan, VP of economic development and innovation at the University of Glasgow, added, "We are proud to be partnering with Kadans Science Partner and supported by Scottish Enterprise to deliver the Health Innovation Hub in Govan. This is a hugely exciting project which speaks to our ambitions to expand the life sciences cluster in Govan, and our mission as a civic university.
"As a flagship project for the Glasgow Riverside Innovation District, we will commit to working closely with the community and with key stakeholders such as Clyde College, to ensure benefits are meaningful and delivered locally, and to capitalise on the opportunities for new employment and growth for Govan and across Glasgow".