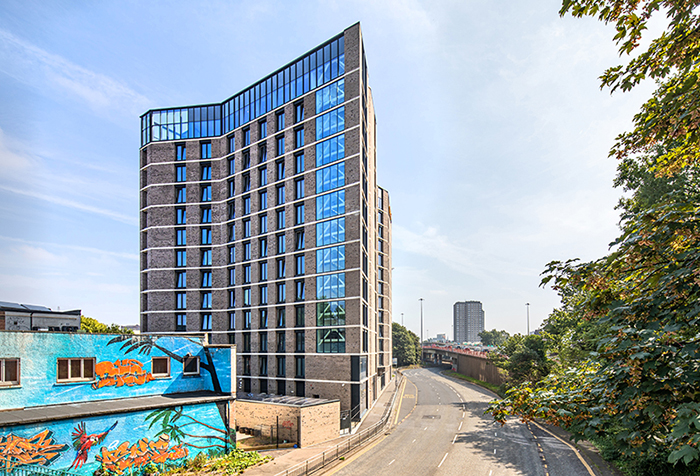 Whether you are considering a 'fabric first' approach to a new build project or looking at ways to retrofit energy saving measures into an existing property, thermally efficient aluminium doors and windows are a great place to start. Kenny McMenemy, architectural advisor from Senior Architectural Systems, explains why low achieving U-values is only part of the process and how supply chain collaboration can support a more holistic approach to sustainable construction.
Targeted thinking
Following the wave of new regulations across England and the planned introduction of a Passivhaus equivalent standard across Scotland, it can be hard for contractors and specifiers to cut through the noise to find a product that has proven reliability. This can be tricky as many fenestration systems manufacturers have had to make a number of significant improvements to bring their range into line but compliance with new regulations doesn't always require a new product.
The first check point is to source a product that not only meets current regulations but exceeds them as this helps to 'future-proof' projects and move the industry away from taking a bare minimum approach to compliance. Partnering with a supplier that is proactive in its product development rather than reactive is extremely important.
This forward thinking ethos defines Senior's approach to product innovation and our flagship PURe range of aluminium windows and doors, which was first launched back in 2016, still offers some of the lowest possible U-values today. This means that in addition to our impressive test results we can demonstrate the product's performance on various real life projects and we have used this experience to continuously refine our product offering to not only meet but exceed current requirements.
Mind the performance gap
An important part of meeting any new regulations, and particularly those concerned with improving energy efficiency, is ensuring that the products work as well in situ as they have been designed to.
Bridging this 'performance gap' can only be achieved through the development of products that are easy to work with, whether this means offering high levels of design flexibility so different styles and sizes can be used as needed, or how accurately the window and door systems can be installed to ensure the necessary levels of airtightness are achieved.
Competency across the supply chain is therefore vital, which is why we offer all our fabricator and installer partners hands-on product training. This has been key to ensuring that our products work as well in practice as they do on paper and that achieving lower U-values has not led to an increase elsewhere in terms of cost or fabrication time.
Choose a partner, not just a product
Most manufacturers will offer at least one compliant product but we believe that prioritising thermal-efficiency shouldn't require a compromise on choice or design flexibility. That's why we can offer multiple low U-value and energy efficient fenestration solutions, including our Ali VU range which is ideally suited to refurbishment or heritage schemes, so that making sustainable choices is just that – sustainable.
Energy-efficient products shouldn't be seen as a niche offering and they shouldn't come at the cost of a having a higher price tag, being difficult to work with or incurring an energy-intensive manufacturing process.
The latter point is a good benchmark by which manufacturers should be evaluated as the embodied carbon of a product can either strengthen, or undermine, its operational credentials.
Choosing a UK-based supplier has obvious advantages in terms of reducing the carbon footprint generated through transportation, and choosing a product that offers cradle to cradle recyclability is another important consideration.
The use of low carbon recycled aluminium, which in turn can be recycled and reused again and again without any detriment to its quality, is standard across our full range of products and one of the many reasons why aluminium fenestrations systems can offer a more rounded solution to sustainable construction.