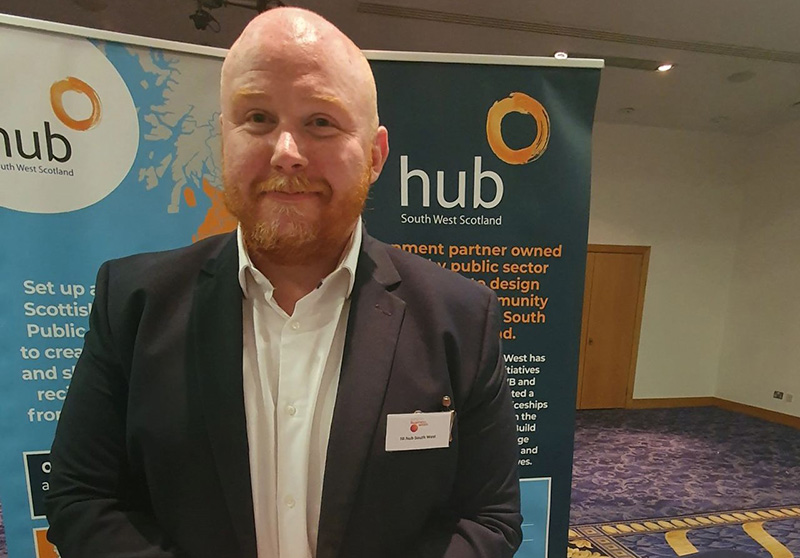 HUB South West Scotland has appointed Joseph Drugan as the organisation's new community wealth building and social value manager.
He previously worked as corporate social responsibility manager at technology company, Raytheon UK. Prior to this, Joseph spent over four years as a social impact advisor at Balfour Beatty to ensure the delivery of community benefits across key infrastructure projects, including Forth Valley College and The University of Edinburgh. He has also supported the growth of STEM education through his involvement with the Engineering Development Trust's Industrial Cadet program and Class of Your Own's 'Design, Engineer, Construct' educational and teaching resource.
The full time role will see Joseph tasked with overseeing all aspects of social value and community benefits across hub South West Scotland's key regions, with a particular emphasis on driving skills and employment opportunities.
Michael Ross, chief executive at hub South West Scotland, said, "Our core focus at hub South West is to create jobs, apprenticeships and recirculate project spend in the regional economy from the public sector projects we deliver. We create a positive impact for local people, bringing new opportunities to businesses and individuals that will not only support them now, but will add long-term value for the future.
"Joining our existing social value team, Joseph will help us demonstrate our commitment to delivering community wealth building and social value from the public sector projects we deliver. Joseph joins our team with a strong track record of bringing great economic and social growth to his projects and we're excited to have him on board. He will put his full focus into driving transformational change and social value so that we can make an even bigger difference to the communities we serve."
Joseph Drugan added, "My first month at hub South West has got off to a flying start and I'm delighted to join the team to further build on our strong track record of social value delivery across the south west of Scotland over the past ten years. Community wealth building is a passion of mine. Helping to create new opportunities, drive skills development and employment, and support local businesses amongst our communities is extremely rewarding.
"As we look forward to our future pipeline of projects, I'm excited to work collaboratively with our partners, robust network of leading contractors, local authorities and the Scottish Government to ensure that we play our part in delivering sustainable economic growth and social value for local people."