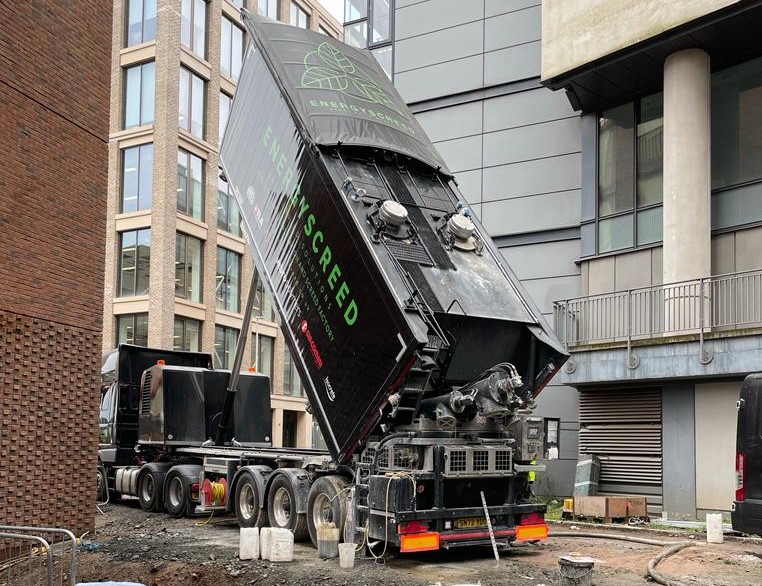 ROSYTH-based flooring specialist Advanced Traditional Screeding (ATS) has announced it is delivering its largest-ever EnergyScreed project as a key partner in a major residential project in Edinburgh.
The firm established its EnergyScreed division last year as part of growth plans, central to which was the purchase of Scotland's first Putzmeister Transmix truck, which pumps the fire-resistant insulation solution to order.
The 16-wheeler is said to have proved a 'game-changer' for the business, with the truck capable of pumping up to 80m³ of screed or lightweight insulation per shift, which equates to almost 176 tonnes.
Its latest project in the Fountainbridge area of Scotland's capital will see ATS deliver 20,000m2 of Cemfloor by McGrath through the Transmix. Over 3000m2 have already been installed, with works on the 253-apartment residential development to be completed by June 2024.
The works are part of Vastint Hospitality B.V.'s wider development which includes a 262-bed Moxy Hotel and 60,000 sq. ft. Grade A office space. ATS is working closely with Contestus UK Ltd as principal contractor and construction manager and Projekt6 providing cost consultancy services.
Since taking delivery 12 months ago of the 44-tonne truck – which has been christened 'Titan' – ATS said demand has been 'enormous'. Between Thermal Lightweight Aggregate (TLA) and Cemfloor, approaching 5,000 tonnes of 'high-quality' screeding has been poured.
"We are committed to innovation and sustainability and are delighted to play a small part in delivering high-quality accommodation in Edinburgh," said ATS MD Jason Lister. "The Transmix truck allows us to provide high-quality screed produced on-site, reducing waste and transport costs.
"We keep waste to a minimum by mixing at the project instead of pre-batching into trucks and screed is less than five minutes old at installation – with no retarder. Titan thrives in large-scale, high-impact construction scenarios, delivering impeccable results and enables us to help people build better and faster with increased quality control."
ATS is also involved at the neighbouring Springside development, the first of Moda Living's sites in Scotland which will see 476 homes designed for rent alongside 25,000 sq. ft. of retail and leisure space.
"It is an exciting time to be so involved in the sector and we're proud to be changing the construction landscape," added Mr Lister.