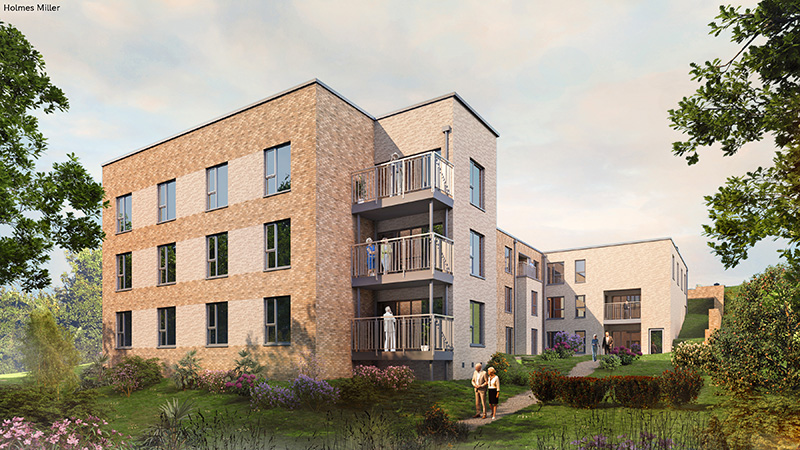 MORRISON Community Care Group, a joint venture company between the care developer and contractor CCG, has started construction on a new care home in Perth.
The development is set to transform the former Hillside Hospital site on Dundee Road into a purpose-built facility that will bring 'much needed' bed spaces to the region.
Catering to people over the age of 65, residential, nursing and dementia care services will be provided alongside private en-suite rooms and a range of amenities such as a hair salon, dining rooms, a cinema, private gardens and a putting green.
The design is said to focus on comfort and wellbeing, while 'innovative' control measures are tipped to reduce the spread of infection amongst residents.
Paul Sokhi, Morrison Community Care MD, said, "With an ageing population, a lack of family carers, and an overstretched NHS, the demand has never been greater for modern, purpose-built residential care facilities, with strong infection control design, for older people in the UK and Ireland. Our years of operational experience have given us the expertise to develop new care homes, focusing on design, technology, and sustainability, to improve the lives of older people and make a positive contribution to local communities now and in the future."
CCG has delivered five developments and over 250 bed spaces on behalf of Morrison Community Care across Scotland since 2017.
David Wylie, MD of CCG, added, "Our innovative partnership combines an award-winning understanding of care provision with industry-leading construction methods and is unlike anything in Scotland. By working collaboratively with our design team partners such as Holmes Miller architects, we are not only helping to sustain the delivery of much-needed bed spaces across the country but we are doing so to the very highest quality standards and we are delighted to now bring our unique approach to the city of Perth."