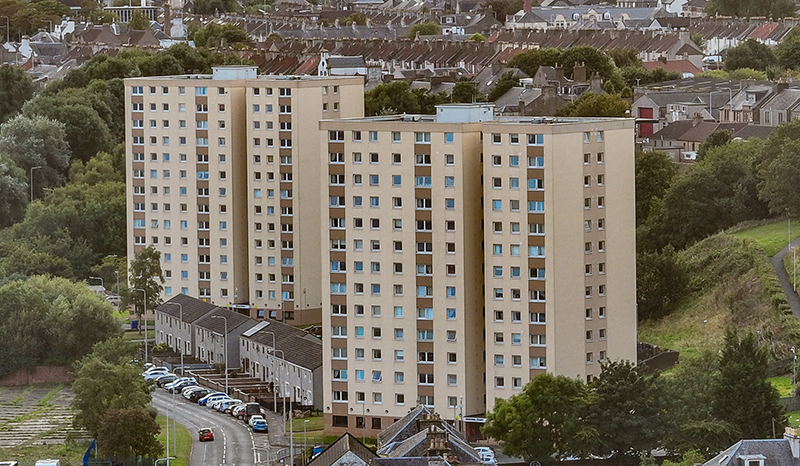 TWO Fife Council-owned blocks of flats in Methil are to undergo £4.5 million worth of improvement works.
The work at Swan and Memorial Court comes after a fire safety review suggested the external wall insulation used on the buildings in 2012 and 2013 potentially posed a risk.
As a precaution, the council has taken the view that the existing cladding should now be stripped down and replaced with mineral wool external wall insulation 'as soon as possible', at the cost of between £2-3 million.
At the same time, a range of other improvements will also be carried out at the blocks, which the council said will enhance the 156 households occupying both buildings. This includes the replacement of kitchens and bathrooms with the installation of appropriate fire stopping in each flat; an upgrade of the electric heating system to Infra-Red Heating; and the installation of a new fire evacuation alarm system to both blocks.
The total cost for all the work – estimated between £4 million and £4.5 million – will be met over two financial years from existing budgets, and the programme of works is due to run from now until September 2024, the council added.
Councillor Judy Hamilton, Fife Council's housing and building services spokesperson, said, "Improving the fire safety of our tower blocks in Fife and the safety of our tenants and residents is paramount to the council. While replacing the external wall insulation in this instance, it makes perfect sense for us to take the opportunity to upgrade the tower blocks to EESSH 2 standard to realise all the benefits that would bring, and it's also only right to upgrade both blocks simultaneously to further reassure people living in the area.
"These works will be delivered at pace to ensure that the highest standards continue to be met and that tenants can be reassured that they remain safe in their homes at Swan and Memorial Courts."